The 100 Best Things in Comedy We Were Witness To In No Particular Order of 2018
January 1st, 2019 means that 2018 is officially over and time for our annual best of list, which, to our knowledge, is one of the only year end lists that actually waits for the year to end. Here's our 2017 Edition for reference.
The name of this list, per usual, says it all. Here are the 100 in, we must stress, no particular order or ranking of any kind. 
1. Death of Stalin-Creator of Veep and In The Loop Armando Iannucci points his political comedy genius towards the power vacuum left by Joseph Stalin's death. The result is, unsurprisingly at this point, another devastating work of comedic brilliance.
2. All Fantasy Everything–Ian Karmel's podcast that fantasy drafts anything outside of the traditional realm of sports is a wonderful showcase of friendship (the most frequent repeat guests Sean Jordan, David Gborie, and Zak Toscani are known as Good Vibes Gang) and a great reminder that you can live in a world with you use waffles as bread for your fantasy sandwich.
3. 12 Years of Voicemails From Todd Glass to Blake Wexler-2018 at least started on a positive note with this endearing and nostalgic release that is literally a collection of voicemails between best friends that also happen to be very resourceful and clever comedians from two different generations. 
4. Corporate–Jake Weisman and Matt Ingebretson have set a new standard for all dark workplace comedy (that goes for movies too) with one of Comedy Central's best scripted series this year. Also, very thankfully, they put Aparna Nancherla regularly on a TV show.  
5. Jena Friedman-From her set on Conan to her first docu-series/special Soft Focus on Adult Swim, Jena's unflinchingly dark sense of humor that dives head first into many controversial issues had one its best years yet.
6. Boy Tears LLC-If you need your fine china and porcelain remixed to have hardcore feminist messaging and imagery and fun cartoons on it, look no further than Emily Hillburg's Boystears LLC. 
7. Nore Davis-Nore's rare combo of positivity and pointed socio-political criticism has only got better over time. His Conan set where he takes apart toxic masculinity and how stupid it is and his album Too Woke where he remains joyful while examining the world's problem are worthy of repeat viewings/listens.
8. Brew Haha-In LA, putting on a big time comedy show at a house is one of the things the LA comedy scene does best. Brad Silnutzer, Marissa Strickland, Aaron Black, and Jimmy the Bartender do well to carry that torch for creating a legit house party that also happens to be a stand-up comedy/drinking game show. Thanks to Thrillist, you can now see it for yourself rather than trying to squeeze into what it is always very packed crowd.
9. BUTT's Sketch Shrinkers Pizza–To describe this specific sketch from Joe McAdam and Chris Stephens would be revealing too much, but know that it, like the rest of BUTT's comedy, is sublimely stupid in the best way possible. 
10. Monika Smith Doing Solo Long Form Improv-Previous to this year, we couldn't even conceive of someone doing long form improvisational comedy by themselves on stage. Yes, that means one person doing an entire improv scene with multiple characters that makes sense and is also funny the whole way through. Monika Smith pulled this off and almost made it seem easy to run back-and-forth on stage and seemingly having each character say something funny in response. We guess it would have be the comedy equivalent of a mind blowing guitar solo in a classic rock song.
11. Punkie Johnson-Simply, Punkie is a joy to watch. She's at a place in her stand-up, with being so in sync with her voice, that she can make whatever she talks about funny in her own unique, big, boisterous, and unapologetic way.
12. Off Book: The Improvised Musical with Jessica McKenna and Zach Reino-This latest iteration of musical comedy genius from Jess and Zach is probably their greatest thus far. Not only do they improvise an entire musical from conversation, but at live shows, they take questions from the audience about the production with answers that are also delightfully improvised.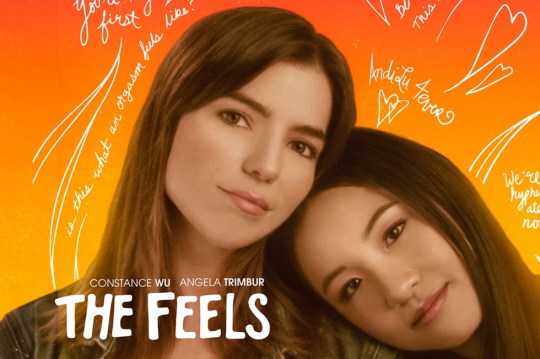 13. The Feels-A lesbian love story that centers on also one of the women never having had an orgasm made for one of the most original and heartfelt rom coms we've seen in awhile. Writer/director Jenée LaMarque and co-writer Lauren Parks and stars Constance Wu and Angela Trimbur ensure, in regards to your emotional state, that the movie lives up to the title.
14. What's the Story with Todd and Rory?-Letting two comedians do whatever they want with no previous planning (or scheming) before hand would 9 times out of 10 be a terrible idea. The 10th out of 10th time would be when Todd Glass and Rory Scovel do it and it's a joyful triumph.
15. Blockers-It has been quite some time since there has been a very solid broad teen comedy about coming-of-age, specifically losing your virginity. This 2018 entry with the focus on teen girls (along with John Cena as a bonafide comedic actor) is genuinely funny and director Kay Cannon and writers Brian and Jim Kehoe also put a nice touch of heart to the movie as well.
16. Love, Gilda-In a year filled with documentary tributes to comedians that we loved, director Lisa D'Apolito reminded us of the undeniable humanity and strength of the one and only Gilda Radner. Having famous comedy folk from today like Amy Poehler and Bill Hader reading her diary to lay the emotion on thick was a nice icing on the cake.
17. Late Late Breakfast-hosts Danny Maupin and Tyler Jackson and producer Liz Maupin brought their crazy stunt stand-up comedy show from Chicago to LA much to our delight. Until they arrived, we would have never got to see something like Kyle Kinane have to do jokes in between the audience singing the chorus of Escape (The Piña Colada Song) along with a karaoke track.
18. Catherine Cohen-Cohen subverts the forms of musical theater and stand-up comedy simultaneously pretty much like no one else can. See her solo show The Twist? She's Gorgeous for proof.
19. Sports? with Katie Nolan's Ad Reads-In general, we really love Katie Nolan and everything she does intersecting sports (as well as some non-sports topics) and comedy. One very specific reason is how she handles the challenge of having to do ad reads on her very good sports comedy podcast Sports? while in character without previously knowing what character/voice/etc. she has to do. What her co-host Ashley Braband puts her through is so fun, you might want to listen multiple times the way Katie wants you to.
20. Langston Kerman-Every single time we've seen or Langston's stand-up, we fall in love with his sensitivity to the world around him and how he delightfully processes that into his bits and stories. Lightskinned Feelings and his Comedy Central half-hour special should be more than enough to show you what we're talking about.
21. Please Understand Me–Steven Feinartz and Ahamed Weinberg's web series had real therapists listen to fictionalized problems played out by comedians and comedic actors including Rory Scovel, Fred Melamed, Dr. Brown, Natalie Palamides. The result from this is something truly special and unquestionably one of the best short form series in all of 2018.
22. Tig Notaro's Closer On Her Special Happy To Be Here-Overall, we enjoyed seeing a cheery and mischievous (more so than ever) Tig in this special than we've seen in a long while. To this point, the closer to this special is probably Tig's most impressive prank to date and we won't say anymore to let you enjoy it in full effect. 
23. Jared Logan's Album "Twilight Door"–Jared Logan is such a great stand-up comedian that we hope that, one day, when you type in Logan into Google, his name comes up rather than the movie. This latest album is part of the reason we want that to happen.
24. Greatest Fundraiser Ever (for the LA Indie Improv Festival)-Many of the best improvisers in LA got tangled up in a four way long form improv cagematch at The Clubhouse while intoxicated on various substances making for some of most memorable fourth-wall-breaking improv we have seen in quite some time. 
25. Las Culturistas' Segment I Don't Think So Honey-Within Matt Rogers and Bowen Yang's hit podcast Las Culturistas, is a recurring segment, I Don't Think So Honey, that has become its own live show spinoff that has played across the country. Essentially, they've made one-minute roasting of pop culture into an art form.
26. Punch Up The Jam–Demi Adejuyigbe and Miel Bredouw are the best song parodists around right now. This podcast proves it.
27. Hidden Fences, a play by Jordan Temple-What started as a horrid misstep by white entertainment media correspondents turned into a legitimately funny play that even has more jokes than a quality sketch show. Also, Temple does manage to make a genuinely hilarious mash-up of Hidden Figures and Fences.
28. Cameron Esposito's Special "Rape Jokes"-Both this special and Nanette came out around the same time in 2018 and, in our opinion, were both powerful and funny in their own right. Esposito doesn't deconstruct joke structure quite as much as Gadsby, but instead brings levity to nearly every moment up until the part of the special where she recounts her trauma. Esposito's Rape Jokes is one of the comedy specials this year that made 2018 kind of a milestone year for comedy specials.
29. Joe Pera Talks With You-Defying strict genre and tone classifications in the most respectful way that he can, Joe Pera and his offbeat kindness in Joe Pera Talks With You made for one of the most memorable TV shows this year. It's a trip into Joe's endearing, almost innocent world that somehow can make even the most hardest cynics smile (and laugh out loud).
30. The Crossword Show with Zach Sherwin-Even if you thought you knew about Zach Sherwin's mastery of language and wordplay from his various rap songs, this entire comedy show centered on an interactive crossword puzzle will still leave you delightfully stunned and amazed. 
31. Amateur Burl-esque-ish-The idea of a bunch of clowns (the postmodern kind, not the children's birthday kind) doing burlesque might sound suspicious to you, but leave it to Gemma Soldati and many of the regular players of the Lyric Hyperion to bring a fresh, bizarre, surprising, and hysterical take on taking your clothes off comedically.
32. Good One with Jesse David Fox-With this podcast, Fox manages to wonderfully accomplish what so many podcasts about comedy attempt to do, but fail to succeed at: having comedians explain how exactly they do their comedy.
33. Hannah Gadsby's special Nanette-Clear and simple, Nanette is a brilliant comedy special by Gadsby. It pushes the art form of comedy (even while she attempts to dismantle it) forward and gives a full, unfiltered voice of a woman and a tragic experience, which is unfortunately shared by so many other women.
34. Isle of Dogs-If you're curious as to how Wes Anderson can up the ante on his own lovely signature style once more without losing any ounce of charm, focus in on an ensemble of dogs, set the story in Japan, and collaborate with Japanese actors and artists to truly meld Anderson's aesthetics with traditional Japanese art, please watch and enjoy Isle of Dogs.
35. Steph Tolev-Steph is yet another Toronto transplant that we're very thankful to have down here in LA. Her boldness, deep voice, and physicality on stage commands the audience pretty instantaneously when she performs. As a result, she had us thoroughly enjoying her sets again and again and again.
36. An Emmy for Megan–Megan Amram's meta web series about attempting to win an Emmy Award may have not achieved its stated purpose, but it was so subversively funny on every level that it unquestionably makes this list (and was also robbed by Emmy voters). Also, her FYC campaigning for the series with billboard and lawn signs was comedic installation art at its best.
37. Brad Wenzel's Album "Sweet Nothings"-As far as 2018 is concerned, cleverness and wordplay in stand-up don't get much better than this Brad Wenzel debut album from Third Man Records.
38. Katie Dill's Solo Show "A One Dill Show"-All of Katie's characters in this show, one of which involves a nifty use of a DIY cardboard robot costume, showcase Katie's fearlessness to be as ridiculous as she dares to be much to the delight of anyone who is watching her. It was one of the quickest standing ovations we saw at a show all year long.
39. Jo Firestone's Album "The Hits"-There is a certain messy grace to the comedy of Jo Firestone. Intentionally, Firestone will make things difficult for herself (like prompting Will Butler of Arcade Fire to play never-before-heard or probably rehearsed interstitial music throughout her hour or asking the crowd really out-of-left-field questions) and make comedy gold from just dealing with it. The Hits captures that grace perfectly. 
40. The Doughboys with Nick Wiger and Mike Mitchell-After hundreds of episodes over the last few years, this podcast about, we think, late capitalism forcing two friends to review chain restaurants in an almost Sisyphean manner has become one of our all time favorite podcasts.  
41. BoJack Horseman Season 5–Raphael Bob-Waksberg and company never cease to surprise with the alternate-talking-animal-coexisting-with-human universe that seems to get to the heart of the actual issues, both macro and micro, of the human condition. Plus, there are always more great animal-pun-sight-gags to boot. This season managed to maintain an intriguing narrative thread while also operating like an anthology series with an entirely different director and nuance for every episode.
42. Carl Tart's MC Sugar Butt-Tart's character that's a throwback to the rappers from the Sugar Hill Gang days of hip-hop is absolutely spot on with his old school bars and dance moves. You'll hear him on Comedy Bang! Bang!, but try and see it live like we did at Atlantic City.
43. Nick Vatterott's Album "KROCK 90Q.BUZZ"-Of the albums released this year, this is probably the most ambitious as Vatterott and producer Jesse Case created an entire over-the-top, multi-layered satirical broadcast of a completely fictional radio station. It's produced so well that it almost feels too real.
44. Simon Gibson-One of the highlights of Amazon's docu-series Inside Jokes was Simon and how his aggressively self-deprecating, yet over-the-top style of stand-up actually helped get him a slot at JFL Montreal. Of course, we've been enjoying what might be this generation's Chris Farley for years and we can only hope that everyone else gets on board in 2019. 
45. Nate Craig's Album "Preferred Customer"-This hour of stand-up might be the most well balanced album of 2018. It has one of the most unique and weird and endearing openings to an hour of comedy that we've ever heard and then follows it up with extremely well-crafted observations and stories delivered flawlessly by Craig. 
46. Dream Corp LLC-Though workplace comedies are well trodden territory and Eternal Sunshine of the Spotless Mind has stood the test of time as a classic film about going into the minds of individuals to "fix them", a mixture of the two by Daniel Stessen (with some beautiful rotoscoping thrown in) made for one of the jaw-dropping shows this year, now in its second season.
47. Mike O'Brien's Incest Joke-Mike O'Brien applies some Swiftian "logic" to the taboo topic of incest and, with plenty of commitment over several minutes, makes a "pro-incest" bit that had us actually doubled over laughing.
48. Will Hines' Bad Guitar Solos-As the name might suggest, Will Hines, who is admittedly an amateur at playing the guitar, genuinely attempts to do guitar solos and with a full, very competent, band playing well known pop songs. It's like the pianist on Coltrane's Giant Steps not knowing what to do, but ten times clearer (and funnier) that he is desperately trying to keep up.
49. Cheers the Show The Show-The concept of a sketch show comprised entirely of different versions of the cold open of Cheers was brilliant by itself. Yet, Brian Rodriguez-McGovern stood this concept on its legs this year and dazzled us with every sort of Cheers cold open you could possibly imagine (or couldn't even imagine because it was written by a great comedy writer who never even watched Cheers) 
50. Eighth Grade-It would almost seem as though Bo Burnham is a prodigy at everything he attempts. His first feature length film just happened to be one of the best movies of the year, a generation defining film, and a coming-of-age comedy that managed to make multiple generations laugh, cringe, and cry all in one go.
51. Erin Lampart Performing with a Bloody Nose at Blair + Greta Show-Just before arriving to Genghis Cohen to perform, Erin Lampart tripped up and her face hit the pavement resulting in a bloody nose. The spirited Lampart was hardly deterred and just stuck up tissues in each nostril, gave 110% with her highly physical style of comedy that includes dancing, rolling, etc., and still killed it. If there's a "Heart of a Champion Award" in comedy, she deserves it.
52. Emily Heller's Album "Pasta"-Heller carefully crafted her latest hour in such a way that continues to prove her mastery and control within and throughout every one of her jokes. Ironically, most of her observations on this album center on how the world seems to be a garbage fire on every level right now, resulting in a pretty great contrast between form and content.
53. Mockumentary Short by Jonny Look for "Gettin in a Van Again" by The Fruit Bats-You never knew that you needed an indie rock answer to This Is Spinal Tap until you saw Look's mockumentary short for the latest, beautiful single from The Fruit Bats.
54. Sorry to Bother You–Boots Riley went completely bonkers in the best way possible for his first film, a satire/dark comedy about the gig economy and the racial divide. It is also one of the best uses of both David Cross and Patton Oswalt's voices ever.
55. Henry's Kitchen Masterclass–Henry Phillips' anti-cooking cooking series was already one of our all time favorite web series. The upgrade of a professional kitchen and Food Network look somehow made these new episodes even better.
56. My Favorite Murder's Historic Episode at the Novo on Halloween-Karen Kilgariff and Georgia Hardstark's true crime comedy podcast set a new precedent for podcasts everywhere by selling out 7000 seats LA Live's Novo. To date, it's the biggest audience for a podcast taping ever, which Karen and Georgia deserve just for how truly great and reliable My Favorite Murder has become (i.e. help launch a podcast network Exactly Right, doing ad reads for something as big as Diet Coke, and writing a memoir coming out this year).
57. Will Weldon's Rant About Bill Maher-Will channels his rage perfectly into our favorite satirical rant of the year about one of the worst liberals around (i.e. Milo Yiannopolous' favorite liberal).
59. The Toppy Awards–Zach Broussard's annual prank known as the Top 1000 Comedians list escalated to a whole new level with an actual awards ceremony that was as gonzo, meta, and sublimely topsy turvy as the list itself. In fact, there was an unplanned absence of an award recipient that made Zach scrap an entire bit from the show, which was even more perfect for showing how ridiculous it is to officially rank comedians.
60. Lizzy Cooperman's Album "Organism"-It may be the dissonant banging of her keyboard in place of a traditional rim shot or her rapid fire, darkly silly jokes that Cooperman rattles off every few seconds, but this album reaffirms our belief that Lizzy Cooperman's stand-up is some of the most "punk rock" stand-up out there right now.
61. Wild Horses and Superego Team Up for "Mixed Company"-Two of the all time best improv groups played on stage together for what very well be the most absurd, but most fun improvised version of The Big Chill ever. We have to give special props to Jeremy Carter for sitting in every chair like he is a cool teacher reaching out to his students even if the chair wasn't made to be straddled on in reverse.
62. The Favourite–Yorgos Lanthimos, for us, has officially joined the ranks of the great modern comedy auteurs including Wes Anderson and Armando Iannucci with this latest offering. He managed to bring his dry, dark, offbeat sense of humor to 18th century England so well that The Favourite seems poised to win rows of awards.
63. Patriot–Steven Conrad takes comedy to its bleakest point and doesn't ever let go with his creation, the Amazon series Patriot. In this comedy of the worst errors (that also have potentially negative global ramifications), Conrad gets as close as to a Kafka-esque comedy series set in the world of American espionage and "intelligence".  
64. Hannah Einbinder-Let this be a notice that the poise and absurd, feminist humor of one Hannah Einbinder is definitely one that you need to watch in the next class of comedians that's coming up in LA.
65. James Adomian as Elon Musk-Without fail, James Adomian inhabits an impression like no one else can (Jesse Ventura, Bernie Sanders). For 2018, James set his sights on controversial tech billionaire Elon Musk. With the perfect look, voice of Musk, with a satirical take to boot, James dropped into shows, panels, podcasts, and even did an entire audiobook as Musk (Welcome to the Future Which Is Mine by The Onion's Scott Dikkers). We have a feeling that Adomian's Musk will probably make some choice appearances in 2019 as well.
66. Nicole Byer-Being the host of Nailed It on Netflix, navigating the world of online dating (truly warts and all) on Why Won't You Date Me?, killing it as a stand-up, and making late night talk show hosts everywhere cringe in glee adds up to a well-earned banner year for one Nicole Byer.
67. Branchburg–Brendan O'Hare and Cory Snearowski's off-beat cinematic vignettes of their hometown Branchburg, NJ are so beautifully funny they deserve their own gallery at a hip art museum. 
68. Emma Willmann's Colbert Set-Willmann's latest late night set on Colbert navigated relationship dynamics amongst lesbians in a way that everyone, no matter how they identify, can relate to and heartily laugh at. 
69. Spider-Man: Into the Spider-Verse-Just like Thor: Ragnarok was an unexpected comedic triumph within the Marvel Cinematic Universe because of Taika Waititi, the touch of adapted film franchise golden boy Phil Lord (along with having John Mulaney and Nicholas Cage as featured voice talents) in the complex Spider-Verse made for a surprisingly very funny, endlessly innovative animated comic book movie. 
70. The Couples Roast from Moshe Kasher and Natasha Leggero's The Honeymoon Standup Special-The individual, traditional stand-up specials from both Moshe and Natasha in this "Honeymoon Standup Special" series is definitely worth your time. However, when Moshe and Natasha dissect the relationship problems of real life couples in the audience on stage, it's pretty damn magical. 
71. loopdeloop-This is one of the instances where the Internet does actually bring the world together for the better. On a monthly basis, Vine-length animations are sourced from around the world based on a theme and then screened one right after the other at the Downtown Independent and other venues all over the globe. It's a head trip to be sure, but it does offer a very colorful look of how we are more alike than we are different.  
72. Ahmed Bharoocha's Religion Joke in His Colbert Set-With one beautiful metaphor, Bharoocha effortlessly and expertly joked about one of the hardest subjects to joke about and managed to have a positive message that's as inclusive as can be (well, except for hardcore atheists). Such a joke is, honestly, one-of-a-kind.
73. Lotta People Here Tonight–Shaun Diston and Devin Field make up this improv duo with the wry name and are currently on a well-earned win streak at UCB's Cagematch. Diston and Field balance each other quite nicely, especially with Devin's stand-up background bringing a bit more fun, nitpicking chaos to their performances and Diston's penchant for escalating to dark places in a scene pretty quickly.
74. Debra DiGiovanni-Debra's an unstoppable force in the realm of stand-up comedy. Her magnetism on stage and relentless pacing of jokes crush every time we see her take the mic and, as such, we should be thankful that DiGiovanni is well on her way to making it in America after conquering comedy back home in Canada. 
75. Dress Up Gang-One of the rare missteps by TBS in the last few years is to seemingly shelve the entire sitcom that was created from the sketch group of the same name. If it ever does see the light of a TV/computer/mobile screen, you'll find that it outdoes Seinfeld in regards to how about nothing a show about nothing can possibly be.
76. Aggretsuko-If you asked us at the beginning of 2018 if a show spun off from Sanrio (the company responsible for Hello Kitty) would make this list, we would politely ask you to repeat the question because we would have swore that we heard it wrong. However, we did not know the show in question would be an animated workplace comedy following a female red panda in modern day Japan frustrated by office politics and the patriarchy that secretly does metal karaoke. Aggretsuko is that very series and is a very surprising and irresistible entry in the ever burgeoning field of adult cartoons with anthropomorphic animals.
77. Lisa Best's Set on Corden about Bisexuality-Best simultaneously cleared up many questions and misconceptions of the B in LGBTQIA+ and showcased her undeniably down-to-earth charisma all in one very memorable late night stand-up set on The Late Late Show.
78. The Onion Issue-The living legend of The Onion as one of the most recognizable satirical publications around seems to overshadow a part of their origin story that's almost as unbelievable as one of their headlines. This documentary short film from director Nick Fituri Scown and producer Julie Seabaugh tells the story of The Onion's first issue after 9/11, which also just happens to be the first issue they were aiming to publish after moving to NYC from Madison, WI. This is part of a documentary that we can't wait for Too Soon: The Comedy of 9/11.  
79. Big Mouth Season 2-It's truly amazing how Big Mouth managed to be even more NSFW than last season, but also more imaginative, introspective, sweeter, and committed to fully realizing all their characters and giving them full fledged arcs (including what we thought was just a ridiculous caricature of a man, Coach Steve).  
80. Ted Alexandro's Senior Class of Earth-While the takeaway of Ted's latest hour seems to ponder the end of the world and the insanity of our times (popular topics these days), Ted's calm and balanced style make everything OK (at least for the hour that you're watching it).
81. Conan in Japan-Right before Conan streamlines to a half-hour format on TBS this year, Conan O'Brien might have just scored his latest and greatest Conan Without Borders special in Japan. His appearance, mannerisms, and more are instantly funny against the backdrop of anywhere he went in Japan and we're confident that some of the most classic Conan moments were just made (i.e his visit to an etiquette school).
82. Feminasty: The Complicated Woman's Guide to Surviving the Patriarchy Without Drinking Herself to Death by Erin Gibson-Gibson's searing essays that address the current state of America speaks to the middle finger that so many of us want to give to (insert personal nemesis that's a GOP politician ruining the country here).
83. Boast Rattle Presents: Was It Really That Bad? A Bunch of Comedians Attempt to Compliment 2018-Many say that it's a bit much that we wait until the actual year is over to make our year end list. Kyle Ayers' special edition of his compliment contest comedy show, which really pushed comedians to their emotional and logical limits to think of 2018 positively, is a great example (the show happened just after Christmas in 2018) of exactly why we wait to include anything and everything great we see in comedy in a calendar year.
84. Under the Tree–Hafsteinn Gunnar Sigurðsson's super-dark comedy about a single tree being the focal point for an all out war between neighbors was very cathartic for the times we live in. It also confirms our suspicions that Iceland's sense of humor might be one of the best dark senses of humor from anywhere in the whole world.
85. Angie Tribeca Season 4-New episodes of Angie Tribeca came in just under the wire for this list and they absolutely did not disappoint. The sight gags, puns, and abject ridiculousness of the show have yet again risen to a new and very satisfying level.
86. Nikki Glaser-Nikki Glaser's wit and verve thankfully keep getting their well deserved spotlight. For 2018, she repeatedly has some of the best performances on multiple Comedy Central Roasts and she broke new ground with her SiriusXM show/podcast You Up. We hope that all signals an even bigger, better year in 2019 for her.
87. Byron Bowers' Story on This Is Not Happening–Byron Bowers, without a doubt, is one of the best storytellers in comedy these days. This particular story Bowers told on TINH shows how Byron can be so devastatingly funny one moment and devastatingly existential in the next. 
88. Who's Your God?-It is in the DNA of comedy to question what is taken for granted. Thus, the religious beliefs of comedians are an endlessly fascinating topic and Amy Miller and co-host Steve Hernandez (and for many episodes, co-hosted by John-Michael Bond) do a smash up job of dissecting and presenting what the most naturally skeptical people on the planet believe when it comes to religion.
89. The Good Place-Leave it to Mike Schur and company to make one of the highest concept shows on television one of its best. Just having finished its second season, the amount of reinvention that happens (and works) on an already complex sitcom about the afterlife is astounding and so damn funny.  
90. Support The Girls–Andrew Bujalski's latest work starts off seeming like a slice-of-life movie, but quickly turns into an enthralling exploration of a good woman doing the best she can while managing a Hooters-esque sports bar. It's undoubtedly one of Regina King's most memorable roles to date.
91. Alison Agosti's Dark Joke Within Her Story Told at Public School Stories-The long-running live storytelling series Public School Stories makes its audience and performers vow to keep what is shared to themselves and themselves only. In honor of that vow, we won't go into any specifics about Agosti's story or the fantastic joke that she told (that's probably the darkest we've heard all year). Instead, we'll use this as an opportunity to point out once more that Agosti is a great, comedic talent you should know about and be following. 
92. Daniel Van Kirk-In years past, you might have only known Van Kirk as the best Mark Walhberg impersonator there is, but presiding over the world's dumbness on Dumb People Town with The Sklar Brothers, doing deep dives into letters Pen Pals with Rory Scovel (#GrowTheShow), and really coming into his own as a stand-up (sans Wahlberg wig) are great reasons to follow everything Van Kirk does going into 2019 and beyond.
93. Clare O'Kane's Album "Let It Be"-Clare finally got to share her unwavering, easy-going vibe with the world on this debut album, which is pretty perfect for a world filled with rage, fear, and lots of yelling.
94. Michael Longfellow's Set on Conan-Like a professional gymnast is required to perform a specific of number of elements and has to stick the landings for all of them, Longfellow crafted and executed a damn fine, classic late night stand-up set wire-to-wire.
95. Goatface's "Sneaker Baus: The Rarest Air Jordans" Sketch–Hasan Minhaj, Asif Ali, Fahim Anwar, and Aristotle Athiras definitely stepped up and filled in the sketch comedy void over at Comedy Central with their Goatface specials. Honestly, there might not be a better sketch about Jordans than this one.
96. Baskets-Season 3 of the, as co-creator Jonathan Krisel once called it, "slapstick drama" about being a serious clown is a pretty well-oiled machine at this point. The way that Zach Galifianakis plays both brothers constantly bickering with each other and Louie Anderson plays the matriarch Christine Baskets is perfected to the point that you'll very easily forget about the reality of Louie Anderson being cast as a woman and Zach having to scream at himself over and over again.
97. Sarah Squirm's Adult Swim Infomercial "Flayaway"-For someone who fronts a comedy group that goes by the moniker Helltrap Nightmare, Sarah Squirm did not disappoint in her beautifully disgusting, satirically feminist Adult Swim infomercial. 
98. Tessa Coates-We saw Coates do her solo show Primates at Dynasty Typewriter and found her warmth and hopefulness irresistible. A few months later she landed a put pilot at ABC. We've noted this before, but it's worth noting again that Emma Stone did her character's solo show in La La Land at Dynasty Typewriter, then went on to star in a breakout role within the world of the movie, which is pretty much what is happening with Tessa in a unique instance of life imitating art imitating life.
99. "Ghost Family"  Pilot–Andrew Michaan and Zed Cutsinger wrote this pilot (that you can watch) and set a new bar for absurdist versions of a coming-of-age HS sitcoms with a literal ghost family and their teenage kid who is the only one in the family that isn't dead. 
100. Heather Anne Campbell's One Person Movie-It's stuff like this that makes Heather one of the all-time best improvisers, end of discussion. Not only did she do improv by herself for a whole hour (which we already detailed how insanely impressive that is), but she orchestrated film scores and genre tropes too into a fully realized, genuinely entertaining feature length movie from opening titles to post credits scene.