The 100 Best Things In Comedy We Were Witness To In No Particular Order of 2013
2013 is over and by reading this you know that it's time for our year end list (we wait until the actual end of the year, just so we don't miss anything and thank goodness we did) known as The 100 Best Things in Comedy We Were Witness To In No Particular Order (here's last year's edition, if you need a refresher). 
This allows us to not rank anything, include whatever we want even if it's not a comedy special, web series, or a podcast, and give you a pretty great tapestry of comedy as great as it was over the last year. 
So, let's see if we can avoid overusing the words funny, hilarious, and hysterical in describing 100 of our favorite things in comedy in 2013. 
1. Paul F. Tompkins has made our list every year and rightfully so by his fantastic comedic output including his new panel show with puppets No, You Shut Up on Fusion, his current podcast Dead Authors, continuing his one-on-one interview series Speakeasy.
2. Brent Weinbach's Gangster Party Line–a real party line if you want shit talked to you. Watch this and you'll see why Brent has also made our list three years in a row.
3. Mark Normand's Conan set; great start to finish including shaking Conan's hand.
4. Dan Harmon and Justin Roiland's Rick and Morty on Adult Swim was what every adult who loved Dexter's Laboratory growing up needed.
5. Cameron Esposito had a historic set on The Late Late Show with Craig Ferguson (it was a great set and Leno who was watching commented that old white guys are on their way out) and, amongst so many other things, an award winning podcast/live show in Put Your Hands Together (i.e. a great 2013 that topped the 2012 that got her on our list last year).
6. Katie Crown and Davey Johnson's interruption bits during live shows involving time travel gone horribly wrong and something called "Tinsel Townies" (which we saw get two encores on New Year's Eve) had us laughing to the point where we had to catch our breath for a couple of minutes. 
7. Kurt Braunohler (another 3 timer for our list) did so many amazing things in 2013 including his skywriting prank that was funded by Kickstarter, a joke stop sign that was still up the last time we checked, and released a nice debut comedy album in How Do I Land? 
8. Just watch The Walsh Brothers' Great and Secret Comedy Show. No further explanation/convincing should be needed (oh, they made our list in 2011 just in case).
9. Todd Berger's It's A Disaster is the unsung post apocalyptic dark comedy of the year. Because of it, there needs to be an award category somewhere for it.
10. For how purely absurd they were willing to go (i.e. do an impromptu prayer to Taryn Manning amongst other non-religious things at the LA Podcast Festival) and how snappy their chemistry is, Erin Gibson and Bryan Safi's Throwing Shade needs to be on your podcast list.
11. Maron In Space, which had James Adomian play Marc Maron as a space captain was already great enough for us to laugh at as a concept, then was executed flawlessly.
12. Brendon Small deftly pulled off having the most meta on stage romantic comedy ever in his Top Secret Experiment at The Steve Allen Theater this year, which had working on the sitcom, being in the sitcom, getting notes for the sitcom, and experimenting with theme music all at the same time.
13. Jim Gaffigan just knows how to make jokes about food like he did on our list last year.
14. Comedy Central's "@midnight with Chris Hardwick" was probably a surprise hit to a lot of people, but not to us for giving a well curated comedian panel the perfect platform to be funny in semi-competitively making fun of the Internet.
15. Todd Barry's Crowd Work Tour, a whole entire show of just crowd work, was a beautiful demonstration in making almost any moment in a human interaction funny.
16. Hannibal Buress' Gibberish Rap was one of favorite rap tracks of 2013, especially because it's one of the only tracks that, when performed live, had ballet dancers.
17. TJ Miller (two timer on our list) went on a tour of sorts by making his morning news interviews pretty memorable.
18. Dan Van Kirk was so f'n spot on with his characters like Mark Wahlberg and Roger Thompson (a man in a campaign race against a pudding cup) which is why he got his own web series aptly titled DVK.
19. One of favorite discoveries of 2013 was Canadian export Happy Contest Time, a live stand up competition judged by Japanese School Girls, now taking place monthly at 3 Clubs in Hollywood. Just let your mind run wild with what that might be and you won't be disappointed.
20. Kids Court with Andy Kindler. It's Andy Kindler as a judge presiding over claims disputed by children and thus comedy gold.
21. During the Impo(vs)tandup show here in LA, one of our favorite stand up comedians that you should all know Andy Peters did some rousing improv as pretty much only a stand up would do it by asking suggestions for planets and car dealerships, going by the name Harriet Thugman.
22. Nacho Vigalondo's short film on love needs to be seen ASAP if you haven't and is worth every second of tension for the pay off at the end.
23. Melissa Villasenor made a neat as well as brutally honest and also fun little stand up special with The Happy Loner Stand Up Special, taped all in her apartment with an audience comprised of her cat.
24. Quentin Dupieux's Wrong and Wrong Cops was the most pure, unabashed silliness that we've had in a movie theater in recent memory and we couldn't be happier because of it.
25. Conan O'Brien doing remote segments at a place and seemingly creating comedy out of nothing like at a giant doll store, commercial audition class, etc. makes us hope he gets another show.
26. Above Average made a really smart move in giving Emily Heller her own web series, The Future, where she "attempts" to read tarot cards for guests like Janeane Garofalo.
27. Eddie Pepitone went with an exciting new solo podcast Pep Talks and got to rap on The Arsenio Hall Show as MC Destructo definitely making his spot on our list for the third time.
28. CC:Studios' This Is Not Happening with Ari Shaffir brought us some of the most spectacular, hilarious stories from comedians like Sean Patton getting gay bashed as a straight guy, TJ Miller almost dying from a seizure, Tom Segura almost dying from giving himself too much GHB,  and Jon Huck's first Oktoberfest going not exactly to plan.
29. For David Letterman's 20th Anniversary of hosting The Late Show, the one and only Bill Murray dressed up like Liberace and tore up the stage amongst other things.
30. Just in case you don't know what England is, Claudia O'Doherty has this 100% accurate informational video telling you the answer as well as showing off her acting reel.
31. Dead Kevin continuing to keep us rolling in laughter from just being three twenty somethings in apartment that maybe don't know how to handle things like balloons safely like they did when they made our list last year.
32. Did you not know that you could parody a show like Homeland perfectly? Well, you should watch FKR.TV's Law of the Land right now.
33. One of favorite single jokes from 2013 comes from Joe Mande on how ludicrous the way we use Instagram is. 
34. Robert Brandenburg is a master at juxtaposing pop culture in classical painting like putting a Rancor in a bull fighting ring.
35. The Pete Holmes Show just premiered near the end of the year and already their sketches have been spectacular like Batman trashtalking Superman or James Bond not handling his liquor.
36. Whether it be infamy or in celebration, very few us will forget that day that when Jon Stewart decided to rant on Chicago style deep dish pizza.
37. Maria Bamford's Ask Me About My New God was wire to wire, a fantastic comedy album that perfectly showcases the silly, dark humor that we love from Maria as we did with her Special Special Special last year.
38. idiot fencing-two comedians who don't really know how to fight, try to do one of the most complicated forms of fighting. Watch on repeat if you know how to do that. 
39. Sketch comedy group Women perfectly satirize the hour long drama in just over two minutes.
40. If Rob Delaney: Mother. Wife. Sister. Human. Warrior. Falcon. Yardstick. Turban. Cabbage. wasn't on your reading list of 2013, put it on your reading list of what you'll be reading immediately.
41. Rory Scovel, of course a three timer on our list, performs in a tuxedo in front of a super fancy grand piano on Conan with material on getting high in a grocery store. It's wonderful.
42. Though not on the air anymore, Nikki and Sara Live deserve a round of applause for their parody of Blurred Lines.
43. @weismanjake is the next coming of the next great Twitter account. Well, that's if you've never read it before, which is all on you. By the way, Jake Weisman is a hilarious comedian that you'll need to know the name of now as we may have suggested in our list last year.
44. The Imaginary Radio Program with Drennon Davis dazzled us yet again (as they did when they made our list in 2011) especially when they parodied David Lynch's new album.
45. One of the best web series of all time Drunk History finally got made into a TV show on Comedy Central and did not disappoint. 
46. Nicol Paone customized a typical bus tour of Los Angeles into a comedy show/arguably the best bus tour in LA last year touring her life in Los Angeles, specifically the homes of her exes called The Last Show I Do Before I Go On Medication.
47. Bill Cosby hasn't lost a step as a comedy legend as he showed in his latest comedy special in a few decades Far From Finished.
48. Every time Steven Wright is a guest on The Late Late Show with Craig Ferguson (let's hope this whole clip stays up), it's more proof that Wright and Ferguson should just have their own show.
49. Aussie comedian Sam Simmons has been a trailblazer for the art form of comedy by doing stuff like holding up paper cut outs of viking road a goat holding a cup of coffee, then having audience members do that very same thing.
50. Despite not wanting his own TV show or being skeptical of being called the next Louis C.K., Bill Burr (another two timer on our list) can make the most divisive topic absolutely hilarious and has shown as such with his podcast, on stage, and on every TV appearance he makes. 
51. Competitive Erotic Fan Fiction got to be a podcast this year and ringleader Bryan Cook rustled up more wonderfully twisted fan fiction from the minds of comedians.
52. On our list for a third time, Dave Ross has really honed himself into one of favorite stand up comedians to watch, started a fascinating podcast Terrified, won himself a Moth Grand Slam, and got his show Holy Fuck a whole double album.
53. Many things are said of the six second medium of Vine. What probably needs to be said more is that you should watch Marlo Meekins on Vine.
54. The comedic premise of what would happen if someone were to go back in time and kill Hitler has been rarely done as well as by Myq Kaplan or Uncle Mom.
55. Kristen Schaal was absolutely one of our favorite people to see in really any context from on stage or as a voice, in her stand up special Live at the Fillmore, on Bob's Burgers to being on The Tonight Show. 
56. A sort of spin off the improvised stand up of the international phenomenon known as Set List, Set List creator Troy Conrad has devised a whole new spur of the moment comedy show in Prompter in where comedians give a TED style talk where, at random, the prompter goes out and they have to keep going as if it's not broken. The result is worth you going wherever you can see it.
57. One of the best sketch groups around, The Midnight Show, made it back on our list with this sketch "Worst Death Ever: Deleted Scenes". 
58. Noah Baumbach and Greta Gerwig's Frances Ha, even though nominated for a few awards, makes a case for comedies not getting enough award recognition.
59. With his album Alexander Hamilton, his free online comedy class, and his comedian origin story of sorts podcast Don't Ever Change, we really enjoyed 2013 with John Roy.
60. From only seeing them a few times, Pretty Pretty Pony was some of the best improv we've come across in quite some time.
61. Taylor Williamson placed 2nd in America's Got Talent this year giving us hope in the comedic tastes of the people who watch America's Got Talent.
62. For years, Triumph the Insult Comic Dog has been delightfully insulting anyone he comes across as a puppet dog. Here's the one time where you get to see the man behind the dog who talks about pooping all the time, Robert Smigel slip up.
63. Randy Liedtke made a name for himself year by pranking comedian Kyle Kinane into a Twitter war with Pace Foods and then attempting to prank a cop with an iPhone shaped cookie to be held while driving.
64. UCB's sketch team Beige made some of our favorite live sketches this year even though they're all the way on the other coast including one about a vase where the vase is broken, Mom's version of NYC, or why you shouldn't lie about your birthday at a diner.
65. Just in the months before getting the ax, Totally Biased with W. Kamau Bell was really hitting their stride as shown with this remote with Dwayne Kennedy visiting a Civil War reenactment as a Confederate solider.
66. The stories off of Kumail Nanjiani's hour special/album Beta Male are the kind that are so funny that you want to listen over and over and then share with your friends because you can't retell it to them in person and do it justice.
67. Seeing the delightful Jackie Kashian (three timer on our list) on late night was long overdue. Thanks to Conan, we don't have to say that anymore.
68. Dana Gould has been on a tear with his stand up last year even if he dug a hole and got himself out of it while introducing someone as the host during a show (that really happened at The Super Serious Show). 
69. Nate Bargatze not only got a development deal at NBC, but also has one of our favorite jokes of the year about science (at the end of this set on Late Night with Jimmy Fallon).
70. Ron Babcock and Michael Truly's Why Would You Eat That? Challenge mined wonderfully the comedy formula of comedians competing to not eat awful things like Naga chili vodka or various types of old nordic seafood.
71. Saturday Night Live did their finest work this year with making a trailer for a Wes Anderson style horror movie in The Midnight Coterie of Sinister Intruders.
72. Of course, Tig Notaro (three timer on our list) would be the world's first cool down comedian as seen here on The Pete Holmes Show
73. Armando Iannucci's Veep on HBO is becoming a perennial awards nominee/winner (in addition to making our list last year) and is still not given enough praise on our opinion.
74. Superego has been one of favorite podcasts for quite some time, but they are on back on our list for this Boardwalk Empire parody with Paul F. Tompkins.
75. Bo Burnham's Zach Stone Is Gonna Be Famous was axed way too early for how damn funny it was, but thankfully, Bo gave us one the best and most innovative comedy specials of the year in what. as well as a book of poetry. 
76. When it comes to DIY craft shows, we prefer to learn how to make stuff that we would only need out of trying for other stern mother's approval and nothing else like at Veronica Osorio's Kate's Craft Corner.
77. Billy Eichner and Amy Poehler went Christmas caroling Billy On The Street style, which should be how everyone should carol from now on.
78. Of course, Louis C.K. is on this list for the third time. His HBO special Oh My God and his latest rant on technology were enough to make up for Louie being on hiatus until this spring.
79. Peter Serafinowicz and Robert Popper "found" alien visitors welcome to earth video. We can only hope that alien visitors are these kitschy. 
80. Key & Peele, we think, was what Comedy Central was looking for in their next great sketch series as it makes it to our list with no hesitation for the third time.
81. Marc Maron's latest comedy special Thinky Pain gets him back on our list and is bare bones, in one of Maron's old haunts, and features the stool perched Maron that we've come to know and love (i.e. the type of comedy special we hope will happen more often).
82. We predict The Kings of Summer to be a summer, coming-of-age comedy classic for years and years to come.
83. Andrés du Bouchet wrote sincere poetry then injected the right amount of crude humor, was part of Schmecky and Schmecky, and is still one of favorite people to follow on Twitter @dubouchet amidst so many other things that got him on this list for a third time.
84. This year, Hot Tub with Kurt and Kristen moved to LA and it's one of the best things to happen to this city up there with expanding the metro lines.
85. Jimmy Fallon has made the most out of using fake arms manipulated by someone else in a fictional Canadian soap opera that one can possibly do for comedy. Just watch this and hope he gets to do this sort of thing on The Tonight Show.
86. Brody Stevens makes it back to our list for a third time with a grand 2013 featuring all of his shows Enjoy It!, Push and Believe, and, you might have guessed, Positive Push in addition to racking up more TV taping warm ups. 
87. Adam Cayton Holland had a great late night set which would have been enough to make this list, but his album I Don't Know If I Happy made us absolutely sure.
88. @salinas_pedro (Pedro Salinas) Is Good For Some Hearty Laughs As Exemplified Here With Every Word Being Capitalized As He Does In His Tweets On Top Of Their Delicious Sarcasm.
89. Baron Vaughn breaks down the true meaning of a black nerd on a terrific set on Ferguson.
90. The Chris Gethard Show getting a pilot order from Comedy Central is reason enough to celebrate in the streets and Chris' least favorite dance The Ritz Carlton.
91. From just his experiences in high school and his love of Ke$ha, Sean O'Connor got us laughing to where we impulsively just had to walk back and forth.
92. Adam Scott's third attempt at The Greatest Event in Television History (i.e. another shot-for-shot remake of an opening credits sequence of a TV show that fewer and fewer people remember) might be his greatest one and closest to the name yet.
93. Todd Glass, time and time again, finds ways to go down a rabbit hole of his own performances and then seamlessly make it back into a bit like pretty much any time on The Todd Glass Show.
94. Jay Larson's wrong number story is one of the most seen stand up clips for Conan because it's that amazing and undeniably funny. We've seen it so many times and it still makes us bust up.
95. Matt McCarthy has fun at such a level on stage that few comedians reach where he kills by yelling at strangers outside of the hot dog joint that he's performing at on a weekend afternoon or looking for a rat that crawled on to the stage or being one of the main players on The Pete Holmes Show.
96. Ron Funches made it a special time every time we saw him and that may or may not have something to do with some Skittles (on top of his one-of-a-kind hysterical stand up). 
97. Because of James Austin Johnson, we've gotten to see characters of the likes of Moose Hornsby, an old folk song player that can do Grimes impressions, in addition to some good old fashioned absurdist jokes last year. For that, make sure you see him around this year.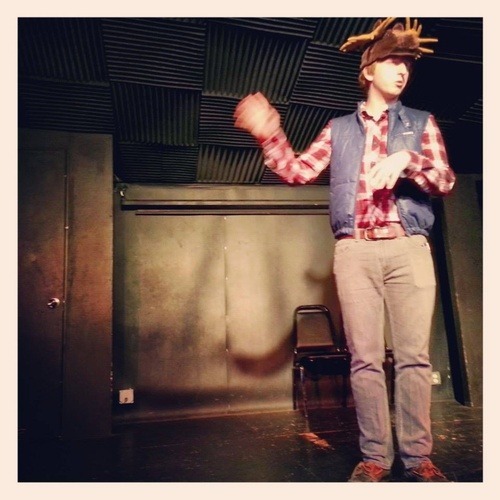 98. If you didn't see Byron Bowers in 2013 even after we told you to in our list last year (and he was on Adam Devine's House Party), we think you'll definitely be seeing him all over in 2014 because of him crushing everywhere he goes. 
99. Seeing Jimmy Pardo invite and dismiss audience members for a game that they don't even know how to play is something we'll never get tired of in addition to the laugh we had when we Googled the meaning of his new album Sprezzatura.
100. Though it's their final season, Eastbound and Down probably had its best season yet of an already sensational show.