The 100 Best Things in Comedy We Were Witness To In No Particular Order of 2014
2014 is officially over, which, according to our protocol here at The Comedy Bureau, clears us to make our annual list of The 100 Best Things in Comedy We Were Witness To In No Particular Order for 2014. 
For the uninitiated, we make a list of anything and everything in comedy over the last 365 days of a calendar year that we loved including comedians, specials, podcasts, art installations, movies, TV shows, online stores, etc. Just catch yourself up with the 2011, 2012, and 2013 editions of the 100 Best Things in Comedy We Were Witness To In No Particular Order.
For the record, we are understaffed here and didn't get around to watching You're The Worst and The Comeback, which seemed, from all accounts from our sources, like two shows we would really have loved. 
So, without any more delays, here are our picks for the 100 Best Things In Comedy We Were Witness To in No Particular Order in 2014.
1. Review on Comedy Central-The idea that someone would review life itself by request is already a pretty good idea for a TV show. Andy Daly took it from good idea to darkly, rich, layered comedic brilliance. 
2. The Dollop–Dave Anthony and Gareth Reynolds explore the tapestries of human history that tend to get overlooked and completely shouldn't be for how insane/bizarre/dumb/etc. they are. History rarely is this damn funny.
3. Bridget Everett-Everett has one hell of a voice and unafraid to use it to shout about doing the nasty from any mountain top around. She's a force of comedy to behold.
4. Bad Words–Jason Bateman's directorial debut gave the spelling bee sub genre of movies a much needed dark comedic edge.
5. James Austin Johnson*-Genuine and absurd are two words that so rarely do mix together well in comedy. James Austin Johnson mixes them exquisitely with voices, stand-up, characters, music, and more. 
6. Roast Battle–The Comedy Store has gone through a mini-rennaissance thanks to, in part, the amazing weekly comedy duel that Brian Moses and Rell Battle have set up.
7. Transparent–Jill Soloway's critically acclaimed Amazon dramedy series is just flat out amazing. Not only does it enlighten us all on the world of transgendered people, but the dysfunctional family dynamics in the show are exquisite.
8. Hannibal Buress**-Besides sparking the fire that has taken down a comedy legend's career, Hannibal also manage to put another solid stand-up special in Live From Chicago as well as reviewing restaurants.
9. Eddie Pepitone*** "In Ruins"-In Ruins, directed by Steve Feinartz, was Pepitone's very first comedy special and the "Bitter Buddha" did not disappoint. In a gorgeous hat, Eddie hilariously picks apart the fabric that society likes to claim is keeping us altogether.
10. Bill Burr** "I'm Sorry You Feel That Way"-Bill Burr's latest stand-up special I'm Sorry You Feel That Way directed by Jay Karas has only further cemented him as one of comedy's foremost torchbearers. It challenges, goes to the fringes, provokes, is in black and white, and, most importantly, is so undeniably funny.
11. Grand Budapest Hotel–Wes Anderson kicked 2014 off with a bang with one of his best films to date in Grand Budapest Hotel. The bang, it should be noted, was from the sort of flintlock pistol that would be used in duels over very rigid and ancient codes of manners held in fictional European countries. 
12. Tig Notaro*** on Conan in Dallas–Tig Notaro never ceases to amaze in her stand-up, especially when it comes to performing on Conan. That's quite a feat considering she's killed from just pushing a stool on stage.
13. Ben Roy "No Enlightenment in Sobriety"-There is a great tradition of fire and brimstone style comedians that deliver their material like a preacher prepping us for the end of days. Ben Roy upheld that tradition well this year with his album No Enlightenment in Sobriety covering being sober, how he wants to leave this mortal coil, and other such delightful topics.
14. Toledo Rep-an improv troupe disguised a repertory theatre company based out of Toledo Ohio made for one of the best and more innovative improv performances we've see all year. Also, having Suzi Barrett, Rebecca Drysdale, Eugene Cordero, Billy Merritt, Joel Spence, Johnny Meeks, and Tricia McAlpin on an improv team together is pretty great
15. Stand Up Planet-The U.S. of A is not the only place that has great stand-up comedy in English. Stand Up Planet and host Hasan Minhaj went to South Africa, India, and more and not only found great comedians, but also found ones that weren't afraid to get into certain issues in their comedy without the benefit of the free speech we get here stateside.
16. Le Weekend–Jim Broadbent and Lindsay Duncan make for a wondrous British couple trying to have one enjoyable weekend in Paris that goes darkly awry. More rom coms would do well to strike this sort of tone. 
17. Weird Al Yankovic's Mandatory Fun Was #1-On paper, it might seem the an entire album of song parodies making it into Billboard's Top 100, especially since comedy albums in general rarely ever enter the Top 100, would be a little farfetched. However, Weird Al Yankovic's Mandatory Fun broke through a glass ceiling and deservedly made it to the top of the that Billboard's Top 100.
18. @sarajbenincasa-To enjoy commentary on live/current events, you can depend on Sara Benincasa to have a flurry of tweets that walks the line between comedy and social commentary quite nicely. 
19. Alan Partridge–Steve Coogan has been really busy this year, especially after taking a more dramatic and well received turn with Philomena. One of the highlights of Coogan's year is an entire movie surrounding his aloof radio DJ character Alan Partridge having to solve a hostage situation while still being Alan Partridge. 
20. Feminist Burlesque by Nadia Kamil-Just take in that title and know that UK comedian Nadia Kamil literally and figuratively pulls off what could almost be an oxymoron in "feminist burlesque".
21. Moses Storm-Pranks, performance art, and comedy all met terrifically via Moses Storm this year. He held the most exclusive birthday party at LAX's Chili's as well as doing an entire live performance art installation that he lived in that both celebrated and satirized the ever-confusing "millennial".
22. Andy Peters* "Exclamation Mark Question Point"-The undeniable and infectious fun that Andy Peters has on stage is evident throughout his debut album Exclamation Mark Question Point off of AST Records.
23. @jessecase*-Jesse Case consistently puts on a display of craftsmanship in joke writing via Twitter. Somehow, he has honed comedic misdirection and not have it be tiring. 
24. Dave Ross*** "Radio"-Having had extensive experience at a radio station in Fresno, Dave Ross made the perfect send-up of all terrestrial radio stations with a heavy emphasis on those over-the-top radio sweepers that he's played at his live shows this year.

25. Kurt Metzger "White Precious"-We can't even remember how many times we listened/watched Metzger's latest album/special White Precious from Comedy Central because of how funny it is wire-to-wire. Metzger balances material perfectly written to touch on every taboo topic there is while also making it so conversational that it seems like he just came up with the idea right then and there.
26. They Came Together–David Wain's hysterical deconstruction of the entire romantic comedy genre with Paul Rudd and Amy Poehler is something we've been waiting for all these years and we didn't even know it.
27. BoJack Horseman–Netflix has fared pretty well in their foray into comedy. Taking the leap into the animated realm with the decidedly gritty, absurdist, Hollywood satire of BoJack Horseman voiced perfectly by Will Arnett from Raphael Bob-Waksberg has definitely been part of that.
28. Greg Proops* doing Set List–Greg Proops has made himself accomplished in both stand-up and improv and Set List: The Improvised Stand Up Show gave him the perfect opportunity show off how skilled his in both disciplines.
29. Andy Kindler's** Latest Letterman Set-Very few comedians can be as meta and as fun as Andy Kindler. Any and every set that Kindler does on The Late Show with David Letterman is a great example of that, especially his latest one. 
30. @hordie–Funny or Die's Ally Hord has a timeline full of gems that are the perfect amount of snark.
31. Rory Scovel*** crowd surfing on Meltdown with Jonah and Kumail-The sheer comedy magic of Rory Scovel and Meltdown come to a head when Rory attempts to crowd surf in what is still the back of a comic book shop.
32. Doug Smith and Matt Wayne's See You In Hell-Hailing from NY, Doug Smith and Matt Wayne put on a such a fun show where comedians have to go through hellish tasks while doing stand-up like randomly arm wrestling audience members or get interrupted and do karaoke or finish a bottle of cheese whiz in between jokes. They're also, appropriately, dressed up as devils.  
33. Last Week Tonight with John Oliver–John Oliver got his own satirical news show at HBO and made it so good that he almost united the entire Internet on a weekly basis. 
34. Rick and Morty*-Season one of Justin Roiland and Dan Harmon's Rick & Morty on Adult Swim saw unbelievable adventures between a misanthropic alcoholic scientist and his grandson. You could just watch how they deal with jumping between multiple universes and it'd be worth it.
35. @yassir_lester*-Consistently, Yassir Lester keeps his Twitter feed up to such a high bar of unfiltered, silly, ironic aggression that is always a delight to read.
36. Superego**-Not only did Superego release their 4th season as a podcast this year, but they added Paul F. Tompkins as a cast member. They also started putting video to their amazing, ridiculous sketches, which, as you'd expect, is amazing.
37. Moshe Kasher and Brent Weinbach*-On their own, Moshe Kasher and Brent Weinbach are great stand-up comedians. Together, they're a great absurdist duo, especially when Brent interrupts Moshe on stage during his act to have Moshe be a French clown.
38. The Virgil-It seems like just a very classy bar sitting on the corner of Santa Monica Blvd. and Virgil, but The Virgil is now home to so many great shows including Hot Tub, Competitive Erotic Fan Fiction, Super Serious Show, Radio Picture Show, and more.
39. Dave Waite-It's hard not to get on board with how loosey-goosey Dave Waite keeps it on stage. Check out his album Hotdoggin' or see him live and you'll get on the Waite comedy train too.
40. The Goddamn Comedy Jam–Josh Adam Meyers has orchestrated an epic night of comedy by featuring comedians doing their act then capping the performance off with covering a song live. As a result, Bill Burr has played drums dressed up as Led Zeppelin's John Bonham. 
41. Chelsea Peretti* "One of the Greats"-Peretti's latest stand-up special "One of the Greats" directed by Lance Bangs played with the entire form of stand-up specials while also being a great stand-up special.
42. Eliza Skinner-Eliza can do it all and does it all quite well. Funny or Die sketches, musical improv, stand-up, killing it at writing erotic fan fiction, and doing musical improv as improvised stand-up are just a few things that she checked off in 2014.  
43. Ithamar Has Nothing To Say–Ithamar Enriquez does an entire comedy solo show without speaking a word and yet, so many words describe it including awesome, hilarious, astounding, triumph, etc. It's no wonder that it's being developed into a web series by Key & Peele.
44. David Dineen-Porter-Technically, David Dineen-Porter hails from Toronto, Canada, but he might just be from another universe altogether where powerpoints, prayers, video game reviews and more are all normal when they're just absurdly funny in this current universe.
45. Patton Oswalt* "Tragedy Plus Comedy Equals Time"-Patton made sure to put extra special care into his latest special Tragedy Plus Comedy Equals Time by developing almost exclusively in the Greater LA Area. The result was a damn fine stand-up special that has one of the best stories about playing a casino ever.
46. Nick Vatterott* "For Amusement Only"-Vatterott does such great, outlandish visual bits, we were curious how he was going to pull of such layered comedy on an album. For Amusement Only did not disappoint and weaved nicely between jokes, bits, director's commentary all while making sure the audience is still following along.
47. Conan Remotes**-Conan O'Brien has built up a legacy as the funniest guy in the room. The remote segments on his show allow him to showcase that to the nth degree even if it's couples therapy or playing video games.
48. Karen Kilgariff-Whether it be her album "Live at The Bootleg", her love song about Godzilla, or just giving comedians a lift somewhere, our day is always made better with more Karen Kilgariff in it.
49. Joe Wagner*-Seeing Joe Wagner live on stage is almost akin to seeing Bigfoot for how rare it can be sometimes. However, unlike Bigfoot, Wagner pushes the boundaries of comedies in talking about hot button issues the moment they become hot button issues like #YesAllWomen or how committed he can "stay in the pocket" of a comedic experiment of sorts for a big pay off. He's also the director of one of our favorite sketch groups, The Midnight Show.
50. Ron Funches* on Conan-Though he might have the friendliest voice you'll hear, Ron Funches just keeps crushing in his stand-up wherever he goes. For example, his latest Conan set.
51. @bryancooking–Bryan Cook utilizes the incendiary and sarcastic sides quite well on Twitter. Having gone on strike with writers from Fashion Police, he pulled no punches in his Twitter feed when Joan Rivers passed away.
52. Key and Peele***-All the moving cogs at Key & Peele from Keegan and Jordan to Peter Atencio to the entire writing staff and more are all at the top of their game right now. They may even get better. Mattress shopping, Georgina & Esther, and aerobics meltdown are just a few examples of this.
53. #gofuckyourselfben–Ben Kronberg was on Last Comic Standing this year and rather than trying to win it all, he instead won the heart of the Internet by making a meme out of Roseanne Barr's judgment of him: #gofuckyourselfben. 
54. Birdman or (The Unexpected Virtue of Ignorance)-writer/director Alejandro González Iñárritu has gotten plenty of "tour de force" reviews from critics and plenty of awards nominations for Birdman. They are all deserved for the dark comedy that skewers every single part of the entertainment industry.
55. Jared Logan-Both his album from AST Records "My Brave Battle" and his Kickstarter campaign to get Hillary Clinton to come address his Dungeons and Dragons club respectively make exploring the lives of D&D players and West Virginia incredibly funny.
56. Natasha Leggero not apologizing for her Pearl Harbor joke-Exactly one year ago today, Leggero got some backlash for making a joke about Pearl Harbor on New Year's Eve. In an era of comedians being cornered into a forced apology, she did what a comedian who is worth their salt does by standing behind her jokes. 
57. Going Deep with David Rees-Humorist David Rees has mastered the art of making learning about the mundane and everyday magical and unbelievably funny with his National Geographic show Going Deep.
58. Lies with Sara Schaefer–Sara Schaefer has given a new twist on comedy podcasts, just when you thought that there could be no more twists. She has a guest and together on Lies, at Nerdist in association with WNYC, they tell no truths in conversation, which makes for comedy gold as opposed to comedy pyrite.
59. Baron Vaughn*-Wordplay, social issues, and talking to insects ne'er intersect better than at the comedy of Baron Vaughn. His Kepler planet bit is especially fantastic.
60. Hari Kondabolu "Waiting For 2042"-Kill Rock Stars has been building quite the discography for comedy this year and Hari Kondabolu's latest album Waiting For 2042 is a big part of that. Hari somehow manages to have as many opinions and sides of an issue represented in his jokes without taking away from the humor at all. 
61. Jenny Slate–Obvious Child, the stream of consciousness on @jennyslate, a new 'Marcel the Shell with Shoes On' book are just a few things that made this a banner year for Jenny Slate. 
62. Matt Porter and Charlie Hankin-Matt and Charlie dominated in the web series world this year with their offbeat verve in Good Cop Great Cop, New Timers at CC:Studios, and Door Boys at MTV Other.
63. Flotsam General Store–Jon Benjamin and Eugene Mirman sell artisan, small-batch, handmade mystery sacks straight from Brooklyn. If there's ever a Prank Hall of Fame, we think Flotsam would rightfully get it's own gallery of mystery sacks. Also, they still wouldn't reveal the contents in the sack unless you paid $40 or more.
64. TJ Miller ** guest hosts Chelsea Lately-TJ got to fill in for Chelsea Handler on Chelsea Lately this year and he made a great case to host his own talk show or, at least, continue to wreak his own personal brand of controlled chaos on other shows.
65. Mike Wilmot–Canada's Mike Wilmot briefly stopped in LA for a few shows, one of which Lewis Black opened for him, and showed a breath of fresh air, albeit one tinged with heavy helping of sarcasm, from an old comedy vet that gets to play around the world.
66. Jim Gaffigan** "Obsessed"-It would seem that Jim Gaffigan should be out of material on food at this point, but, donuts and seafood get their own spectacular chunk on Gaffigan's latest stand-up special, "Obsessed". On top of that, Gaffigan plenty of non-food material including one of the best all time jokes about weddings.
67. Phil Hanley's break-up transcript-NYC based Phil Hanley gets a female audience member to reenact a recent break-up with his girlfriend and, with a little choice editorial from Phil, makes a break-up seem actually pretty great.
68. Pro transgender spoken word PAC-MAN poetry by Kyle Kinane*-At Competitive Erotic Fan Fiction, there's a whole group of comedians that have to write erotic fan fic based off an audience suggested topic. Kinane got PAC-MAN and did his whole piece as spoken word. We don't think we need to say more to explain how amazing that was.
69. Broad City–Abbi Jacobson and Ilana Glazer have broken down so many cultural, genre barriers perceptions while making a hit TV show on Comedy Central. Additionally, Broad City is f'n funny. 
70. Guy Branum*-We love him as the acerbic host of Talk Show: The Game Show, but we also love Guy for his poignant and splendidly aggressive stand-up that break down the myth of Canada, liking "that song on the radio", the gay accent, and floral prints on black. 
71. Myq Kaplan** "Small, Dork, and Handsome"-Myq Kaplan showcases how intricate the "verbal gymnastics" in his jokes can get on his latest stand-up special Small, Dork, and Handsome making multiple viewings to catch his "bonus jokes" all the more worthwhile.
72. The return of The Best Show–Tom Scharpling and Jon Wurster return with the mighty Best Show that now exists as a radio show and a podcast, so more hordes can acquainted with the goings-on of Newbridge. 
73. @weismanjake**-Defending Mariah Carey, "knife-selfies", and an overall dark mischievous tone make Jake Weisman's twitter feed one of the best around.
74. Lake Bell talks to Kid President about girls-As Kid President Robby is still a kid, there are issues like "girls" that confound him during his administration. Luckily, he has the help of people like Lake Bell to get him through calling and talking adorably and awkwardly to a girl. 
75. Kurt Braunohler*** rode a jet ski to send goats to Africa–Kurt Braunohler never ceases to amaze in how far he will go in his mission to insert stupidity and absurdity and strangers' lives. This year, he rode a jet ski down the length of the Mississippi River, as part of his show Roustabout, to help send livestock to families in need in Africa.
76. Tomorrow! w/Ron Lynch's Tomorrow! New Year's Eve-Believe it or not, one of the best shows we attended all year long was on the very last day of the year in the 11th hour. Emo Philips, Ron Funches, some hijnks from Chris Walsh, the three ghosts of New Year's Eve, and more made for the best New Year's Eve show we've ever been to.
77. Daniel Van Kirk*-Van Kirk continued to quietly build an empire from his characters with DVK, The Wahlberg Solution, and becoming a spokesperson for Chili's.
78. Happy Contest Time*-Happy Contest Time remains as our favorite stand-up "competition" judged by Japanese school girls because, well, there's nothing crazy and great like this anywhere else in comedy.
79. Jackie Kashian** "This Will Make an Excellent Horcrux"-The stand-up of Jackie Kashian should be on any and all current "best of" lists. Her comedy bridges a gap between the deeply personal/introspective and the farcical. So, with that said, watch her latest special on All Things Comedy "This Will Make an Excellent Horcrux".
80. The return of "No, You Shut Up! with Paul F. Tompkins"-We were curious of the fate of the panel debate show with puppets hosted by Paul F. Tompkins and were glad to find that Fusion has not only given a third season to the program, but expanded it to a half hour. Current issues, Tompkins, puppets, and a general air of top shelf tomfoolery are probably why it's the second most Googled show of 2014.
81. Andrés du Bouchet***-The juxtaposition of the high and the low is rarely executed better than by Andrés du Bouchet. See his bits on Conan, his live compilation album 20 Sided Guy from AST Records, and @dubouchet if you at all doubt us.
82. The Future with Emily Heller–Emily Heller's Above Average web series The Future gave us all a great look into the world of tarot card readers, especially the ones that probably don't get a lot of love on Yelp.
83. @jokesbycandice–Candice Thompson's Twitter account is a delight to read through for all its great sharp one-liners as well as being almost able to hear Candice giggling as she wrote them.
84. Brendon Small and Steve Agee present Baked-For another comedy and music show that features stand-ups doing a set and then doing a song to make this list, it would have to be pretty special. Brendon Small and Steve Agee do just that in the legendary intimate jazz venue known as The Baked Potato with a killer band and an accomplished band leader who also happens to be Brendon Small. It's not often you get to see theme to Ghostbusters played on a stage that it was also played on by Ray Parker Jr. at a comedy show.
85. Nathan For You–Nathan Fielder baffles us all still with how he pulls of his insane small business schemes/pranks on Nathan For You on Comedy Central. He convinced a realtor in trying to list properties based on whether they were haunted or not and there was, of course, Dumb Starbucks.
86. Dan Mintz "The Stranger"-Misdirection abounds to the highest possible level on Dan Mintz's latest album The Stranger from Comedy Central Records. Just switching between premises involving his girlfriend and his wife already keep you guessing even after Dan delivers the perfectly worded punchline.
87. Riot LA*-a second line led by Kurt Braunohler through the streets of Downtown LA, an fictional space exploration program with lasers, and a commemorative reunion of Jon Benjamin Has a Van are only a few of the fantastic things that happened in 2014's Riot LA Comedy Festival.
88. Cotillion Girls want to even the score of the Jennifer Lawrence nude photos leak–Katie Molinaro and Rosey Blair as The Cotillion Girls were outraged that Jennifer Lawrence got hacked. Thus, they're trying to recruit female hackers to get even with hacking some Gosling dick pics.
89. Chris Gethard**-It's great news that The Chris Gethard Show is finally getting its due with the announcement last year that it's headed to cable. Also, Chris Gethard's stand-up album My Comedy Album from Don Giovanni Records tipped off us in great detail why none of us should watch I Survived.
90. The Interview-We're pretty sure that Seth Rogen, Evan Goldberg, James Franco, Randall Park, and Sony Pictures Entertainment had no idea that an international incident and the Sony Hack would come from making The Interview. It did and it has become a moment in comedy history where watching dick jokes by Rogen and Goldberg was patriotic.
91. Chris Fairbanks-Reading the hardy backstory to some oatmeal on stage, co-hosting Do You Need a Ride? with Karen Kilgariff, doing his version of a reggae song, and @chrisfairbanks had us laughing heartily with Chris all year long.
92. Tim Harmston "The Most Bees Ever"-Harmston's album Most Bees Ever from Stand Up! Records started off 2014 with enough cleverness to enjoy that we almost forgot about the rest of 2014.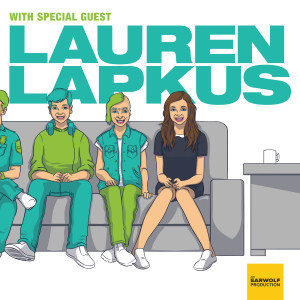 93. With Special Guest Lauren Lapkus–Earwolf's latest podcast gets the bonus of being, technically, a bunch of different podcasts as the wonderful Lauren Lapkus either plays herself or one of her plethora of characters that is the guest of a one-off podcast created by what is technically the guest of her podcast. Perhaps, it's the "Inception" of comedy podcasts? 
94. The Pancake Breakfast Critic with Joe Pera-Leave it to the quiet, but sublimely bizarre comedy of Joe Pera to make reviewing pancakes breakfasts in small towns across America laugh out loud funny.
95. SNL mashes up The Office and The Hobbit-Having Martin Freeman on as the host, Saturday Night Live got the challenge (or blessing in disguise?) of bringing the worlds of Middle Earth and Wernham Hogg Paper Company together. As far as parodies of TV/movies go, this was top notch.
96. Science… For Her! by Megan Amram-Amram has created a hybrid between a science textbook and Cosmopolitan magazine in writing her book Science… For Her! She simultaneously also created one of the funniest books of the year.
97. Cameron Esposito** "Same Sex Symbol"-Cameron Esposito keeps on rising through the ranks of comedy with something amazing, daring, and heartfelt every year. For 2014, that was her comedy album Same Sex Symbol from Kill Rock Stars. 
98. Tony Sam-Tony's one-of-a-kind voice, both literally and figurative, gets a nice showing on his debut stand-up album Scaredy Cat from Stand Up! Records. Tony also co-hosted with Julia Prescott one of the more innovative shows we got to catch in 2014, Part Two: The Sequel Show, featuring comedians pitching fake sequels to movies like Guy Branum's Dominion Day (sequel to Independence Day, but set in Canada)
99. Norm MacDonald auditioning to replace Craig Ferguson on The Late Late Show-Of the candidates for Ferguson's slot as host of The Late Late Show, MacDonald organized an entire #LateLateNormNorm campaign and put forth quite the audition on Conan to be on CBS after Colbert.
100. Brent Weinbach*** short film  "I Don't Dance"-Brent has made it on this list already as a duo with Moshe Kasher (#37), but his short film I Don't Dance that really emphasizes the difference between "don't dance" and "can't dance" to a hysterical extreme definitely deserves its own spot. 
*2nd timer on The 100 Best Things in Comedy We Were Witness To in No Particular Order
**3rd timer on "
***4th timer on "