Morning Debriefing 3/21/11
1) Really, Austin, TX? No love for Brody Stevens?
2) Results for the second round of March Comedy Madness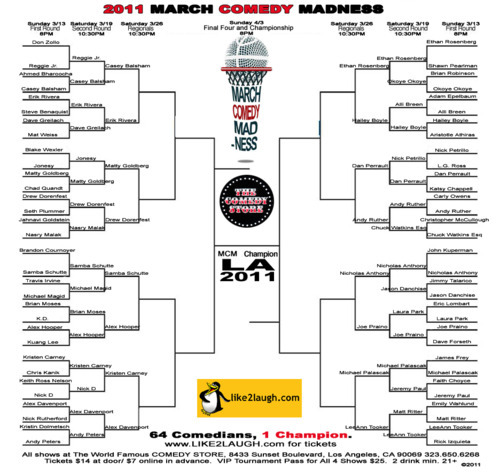 3) Greg Proops just spoutin' off to Huffington Post, which is smarter and funnier than what most of us think of in a week.
4) Interview w/the guys behind the alt/indie comedy concert film, "Tell Your Friends" via Huffington Post.
5) The Tip of the Hat to Paul F. Tompkins.
6) Tonight's COMEDY CRAWL
Good Humor @ Mom's Bar 8PM FREE
What's Up Tiger Lily? @ Hollywood Studio Bar & Grill 8PM FREE
No Class Comedy @ Tommy's Place/USC 9PM FREE
Melgard Mondays @ Melgard Public House 9PM FREE
Keep It Clean Comedy @ 1739 Public House 10PM FREE
Crash Test @ UCB Theatre 11PM $5  
7) OPEN MIC RUN
RED ROCK 8782 W. Sunset Blvd., West Hollywood, CA/Starts 7PM/multiple sets allowed/$5 min.
CLUB 705 705 Pier Ave., Hermosa Beach, CA/Starts 7PM-ish
JAKE'S 38 W. Colorado Blvd., Pasadena, CA/Sign-up (lottery) 7:30PM/Starts 8PM
TRIBAL CAFE 1651 W. Temple St., Los Angeles, CA (Echo Park)/Starts 8PM/call (213) 483-4458
D'AMORE'S 8369 W. 3rd St., Los Angeles, CA/Sign-up (lottery) 8PM/Purchase required 
GROUND ZERO USC 615 Childs Way, Los Angeles, CA/USC Campus/Nestled between 3 dormitories approximately a block away from the intersection of Figueroa and Exposition/USC student sign-up 9PM/non-USC-student sign-up 9:15/Starts 9:30PM 
8) A reader of the Comedy Bureau asked if the Comedy Bureau was a venue.  Anybody want to make the answer to that question a "yes"?
Report 00150
THE COMEDY BUREAU/@thecomedybureau