Post Brunch Update 11/30/10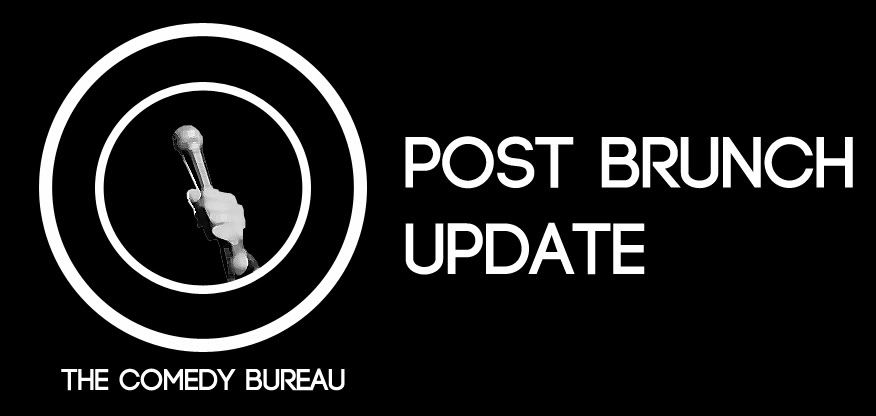 1) The Ground Zero Performance Cafe Open Mic @ USC gives comics a great chance to perform in front of real college students, though, as with all open mics, without its shortcomings. In a quite dazzling venue that can seat more than 100 (as I have witnessed on occasion for the open mic) with professionally lit stage bigger than the Improv, it would seem that the Ground Zero would be a dream setting to work out material in a free 7 minute spot. However, there are a few trade-offs. This is the only open mic in ALL of the greater Los Angeles metropolitan area that does not have a host, which keeps the audience "cold" between performers (no one brings up the next act), not to mention that a voice in the dark asks for your name when you're supposed to go up. Also, as this open mic is at USC, the show is biased towards student as there is a USC student sign-up 15 minutes before the Non-student sign-up, which can make it, on really busy nights, very hard to get on the list. Still, if you do manage to get on the list, its one of the closest things to performing in front of real people in a somewhat realistic setting and I would highly recommend it. Ground Zero USC is located, almost hidden, on the USC campus in between three dormitories (Marks Tower, Trojan Residence, and Marks Hall) next to Figueroa St., just a block north of Exposition Blvd (e-mail thecomedybureau@gmail.com if you need further assistance) will be on hiatus until Jan. 10 and then resume taking place every Monday w/USC student sign-up at 9PM/non-USC student sign-up 9:15PM/starting at 9:30PM.
2) The Lakers, though they will be on several TV's this evening, are not in town tonight, so go out on a COMEDY CRAWL because comedy doesn't call "techs" that ruin the game. Start off with Gravity Works w/Sarah Hyland @ Dragonfly 7:30PM $15, then Hamclown! @ The Mezz in the Alexandria Hotel (2nd Floor) 8:30PM FREE, Comedy Death Ray @ UCB Theatre 8:30PM $5 (stand by only), then Conan Showcase @ Hollywood Improv 10PM $14/2 item min.-$2.50/2 item min w/code: coshow/This show is sold out, but people do flake in LA…, then finish off the fastbreak with The Walsh Brothers Show @ UCB Theatre 11PM $5.
3) OPEN MIC RUN: BACK HOME IN LAHAINA 519 Carson St. #A, Carson, CA/Sign-up 6PM/Starts 7PM, BIG TROUBLE IN LITTLE TOKYO @ SEÑOR FISH 422 E. 1st St., Los Angeles, CA (Little Tokyo/near Downtown)/Sign-up 6:30PM/Starts 7PM, WESTWOOD BREWCO 1097 Glendon Ave., Westwood, CA/Sign-up (lottery) 7:30PM/Starts 8PM, COFFEE GALLERY 2029 Lake Ave., Altadena, CA/Starts 8PM, MARTY'S/THE OPEN MIC 7351 W. Sunset Blvd., Hollywood, CA (walk up Martel past Big Mama's and Papa's)/5PM to 11PM/$5 cover/multiple sets allowed
4) Comedy Death Ray, or what some people refer to as "the people in LA that don't suck", just dropped "XMAS CD 2010", a musical Christmas delight featuring people that can sing, that can't sing, and people that can sing and choose to, for effect, sing poorly, but are all pretty damn funny, including: Garfunkel and Oates, Paul F. Tompkins, Jimmy Pardo, James Adomian and many more! Check it out/buy it/order it here. Also, check out the hilarious accompanying music video We Are the World 25.75 w/Kurt Russell.
5) I know you just read it up above, but the BIG TROUBLE IN LITTLE TOKYO OPEN MIC is causing a little bit of mayhem tonight with, as I also have mentioned several times before, SPECIAL GUEST RYAN STOUT/JERRY BRANDT/$2 FISH TACOS. More etails above and at the link, so be there or be square… or really any number of equilateral polygons as there are all pretty boring.
6) Coming soon to the Comedy Bureau (yeah, there's still more stuff coming because I love guys and comedy all that much): updated Comedy Maps with routes of active shows and recommended open mics, UPDATED DAILY!
7) The Comedy Bureau "Tip Its Hat" today to BARRY ROTHBART- "@barryrothbart Leslie Nielsen died doing what he loved most, being remembered for only the 1% of his career that involved word puns." When not filming national televised commercials for Honda, Barry Rothbart makes his way throughout several "big" rooms in LA with ease, just like he does with absolutely hysterical anecdotes about his life ranging from filming in a nudist colony to trying to clumsily pick up ladies in the street. Transplanted from the East Coast, the Comedy Bureau is damn sure glad he's over here now. Check out Barry's blog, website, and twitter.
8) From the "You Should Have Been There" Lagoon-Reggie Watts-Fuck Shit Stack
9) "Quite the LIVE TWEETING extravaganza happened last night at an open mic as you can read here AND if you enjoyed it or any of the awesome features that this site has to offer, you can donate here."-Ghost of Christmas "You Should Probably Donate to the Comedy Bureau"
10) A person asked me last night if I was going to break out the "holiday" material. As a large chunk of my material deals with horribly awkward social interactions with my family, I told her my "holiday" material is a pretty much the same as my "normal" material, which, incidentally, is how much I care about being topical.
Report 00039
THE COMEDY BUREAU