Post Brunch Update 11/17/10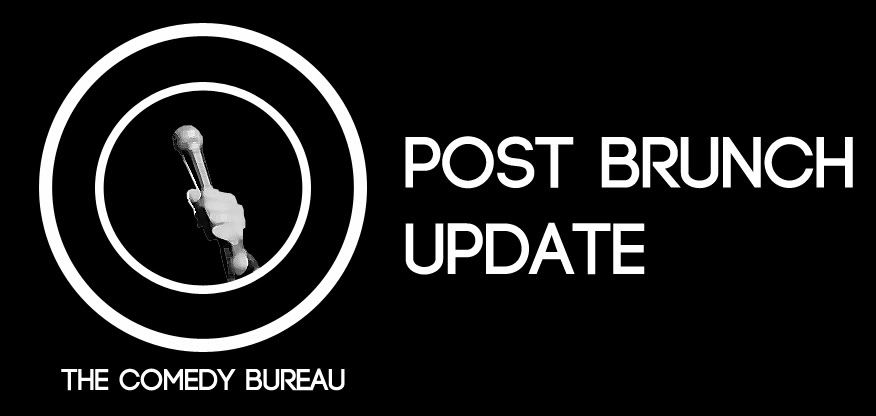 1) The Big Trouble in Little Tokyo Open Mic @ Señor Fish thanks everyone for coming out and making it a bigger room.  Also, thanks to "cheeseburger cookies" that were raffled off tasting like normal vanilla flavored/chocolate filled cookies.  Come next Tues. Nov. 23rd for the mayhem/fun and another random Japanese food item. Sign up 6:30PM. Starts 7PM. 422 E. 1st St. in Little Tokyo.
2) Stripped Stories @ UCB Theatre gave an increasingly rare experience amongst live comedy shows where performers actually talk about themselves as honestly as they possibly can.  So much painful/endearing humor can be drawn from the horrible/amazing things that happen in life and Stripped Stories showed, beyond a shadow of doubt, how great that can be.  Though the name of the show might lead you to believe it's just a bunch of vulgar sex stories, I believe that "stripped" is in reference into how every performer on the show strips their normal stage persona and become vulnerable and hilarious in a way that I never expected.  In from NYC, Giulia Rozzi and Margot Leitman stopped here in LA with their amazing show at the UCB Theatre and hosted/shared some sensational and hysterical stories with Michelle Buteau, Tony Sam, and a few musical confessions from Wendy Ho.  Stripped Stories tours nationwide and check back at the Comedy Bureau for the details for the next show.
3) OK, we've talked about cloning and I'm pretty sure traveling through time to get to COMEDY CRAWL in its entirety.  Well, you're going to have to BOTH for tonight's COMEDY CRAWL: Start off with The Frolic Show! @ Barbarella Bar 8PM FREE, then travel back in time to The Laughing Skull Showcase @ Irvine Improv 8PM $15/2 item min., make a clone, send it to "If This Doesn't Work Out I'm Moving Home" A Variety Hour @ Harlem Place Cafe 8PM FREE, then have the clone go back in time to Comedy on the Rocks @ Red Rock Eatery & Lounge 8PM FREE, then travel to the future, or present, to Meltdown @ Meltdown Comics 8:30PM $8, then meet up with your clone at Biscuits and Gravy @ Hollywood Improv Lab 8:30PM $5, make another clone and send it to Silver Mullet @ The Hideout 8:30PM FREE, then send the first clone to Punk House @ Westside Comedy Theatre 9PM $8, and go ahead and teleport to Comedy is Dead @ Hollywood Forever Cemetery 9PM $20, then take yourself to Beer in the Shower @ Whitehorse Cocktail Lounge Inn 10PM FREE, and then gather everyone at Anna Lee Lawson Comedy Hour @ The Next Stage Theatre 11PM $5, then kill the clones and destroy the time machines because they turned out to be your doppelgangers bent on making 2010 the new 2012.
4) OPEN MIC RUN: THE BASEMENT 149 Linden Ave., Long Beach, CA/6:30PM, THE SPOT CAFE 4455 Overland Ave., Culver City, CA/Sign-up (lottery) 7PM, LIBRARY A COFFEE HOUSE 3418 E. Broadway, Long Beach CA/8PM, CAFE ON 2ND 7 S. 2nd St. Sign-up 7PM/Starts at 7:30PM/$3 cover/10 min., MARTY'S/THE OPEN MIC 7351 W. Sunset Blvd. (walk up Martel past Big Mama's and Papa's)/5PM to 11PM/$5/can go up multiple times.
5) Holy Fuck! The Comedy Bureau "Tips Its Hat" to Dave Ross. "@davetotheross ask not what your country can do for you… ask China. they have money."  Follow him on Twitter here. Great guy/comedian/obsessed with the F word Dave Ross also his year anniversary of his amazing show Holy Fuck! next Tues., Nov. 23rd, 9PM @ Downtown Independent Theatre, which is something not to be missed.
6) The Comedy Bureau will be in at a few open mics, a comedy competition doing only 3 min., and wondering what has become of the comedy scene in Long Beach tonight. Hear all about it as I'll/we'll be LIVE TWEETING the whole time here.
7) Donate and I'll temporarily lift my belief that karma doesn't exist AND something good will happen to you.  Test that theory here.
8) Tony Parker/Eva Longoria divorce jokes vs. more Prop. 19 failing jokes.  I'm wondering which of the two I'll hear more tonight and why I'd rather hear more 9/11 jokes.
Report 00026
THE COMEDY BUREAU