Post Brunch Update 11/23/10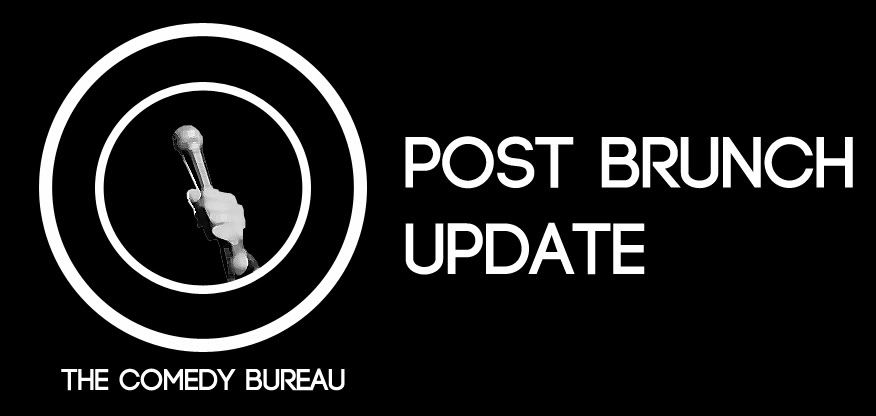 1) Just like "Depression-a-palooza", "Can You Tell If I'm Kidding? Comedy Show" @ The Edge of the Roof of a 13 Story Parking Garage was also a notable failure.  None of that matters though as BIG TROUBLE IN LITTLE TOKYO is TONIGHT! Well, as much trouble as comedy, japanese snack foods, $2 fish tacos, $3 domestic/$4 imported beer, and Russell Corona and I can cause… Sign-up 6:30PM. Starts 7PM. Señor Fish, 422 E. 1st St. in Little Tokyo (near downtown).  
2) Tonight's COMEDY CRAWL is not only a big one with some KICKASS shows, but it's also incredibly easy on the wallet (i.e. you won't have to eat at Taco Bell tonight).  Don't believe me? try Sweet and Sour Comedy @ Genghis Cohen 7PM $5/Free for comics, then Comedy Death Ray @ UCB Theatre 8:30PM $5 (stand-by only), then Amuse and Abuse @ Esquire Bar & Lounge 8:30PM FREE, HOLY FUCK! ONE YEAR ANNIVERSARY @ Downtown Independent Theater 9PM FREE, Liquid Courage @ Hollywood Improv 10PM $14/2 item min, then finally WitStream LIVE @ UCB Theatre 11PM $5, and go eat a steak because you can afford it (unless you're really poor like me and buy food with change).
3) OPEN MIC RUN: BIG TROUBLE IN LITTLE TOKYO @ SEÑOR FISH 422 E. 1st St. in Little Tokyo (near downtown)/Sign-up 6:30PM/Starts 7PM, COFFEE GALLERY 2029 Lake Ave., Altadena, CA/8PM, WESTWOOD BREWCO 1097 Glendon Ave., Westwood, CA/Sign-up (lottery) 7:30PM/Starts 8PM, MARTY'S/THE OPEN MIC 7351 W. Sunset Blvd., Hollywood, CA (walk up Martel past Big Mama's and Papa's)/5PM to 11PM/$5/multiple sets allowed
4) The submissions for Tig Notaro's Untitled Comedy Tour HAVE BEEN EXTENDED.  Post a two minute video of why your "living arrangement" is worthy of Tig Notaro and her friends here and you might have a damn fine LIVE comedy show exactly where you live.
5) As I mentioned, Schtick or Treat was one of the best times I had at comedy show, especially since I got to the privilege to perform.  If you missed this amazing once-a-year comedy extravaganza, check out all the highlights right here. 
6) The Comedy Bureau "Tips Its Hat" today to Andrew Dewitt.  Andrew posted a video of him opening an "Assassin's Creed Brotherhood: Collector's Edition Box Set" alone in a basement on his birthday… IN 3 PARTS.  It's pretty damn fantastic, check it here.  Andrew came up through the stand up comedy ranks in Chicago and now made his way here in Los Angeles performing all around town.  Check out his awesome blog Dorksplosion here.
7) As people constantly ask me, "How do I get 'Tip of the Hat' from the Comedy Bureau?" I'll let you know exactly how I run this fancy little operation.  Everyday, I check Twitter, Facebook, and Tumblr for tweets, status updates, videos, blog quotes, etc. for the best little gems in comedy in LA.  Going from Midnight to Midnight in a single day, I make a short list and then, from there, determine who gets the "Tip of the Hat" and is featured here at the Comedy Bureau along with their twitter, website, blog, etc.  So, if you want a "Tip of the Hat", get to tweeting, facebooking, blogging, youtubing, etc. because I'll be on the lookout (as I slowly realize that I have less and less of a life).  Also, any "Tips of the Hat" will be permanently placed in the "Tip of the Hat Archive" which I just created right here.
8) I know you guys love the blog as much as I love writing it, so give me the opportunity to MAKE IT EVEN BETTER by donating here.
9) Back to LIVE TWEETING and actually going out.  Check out if my new "Social Network" material works out here.
10) The Comedy Bureau stats: 92 people like it on Facebook, 49 followers on Twitter, and 30 followers on Tumblr.  Only 499,999,829 people to take down Facebook, or at least I think so.
Report 00032
THE COMEDY BUREAU