Post Brunch Update 12/1/10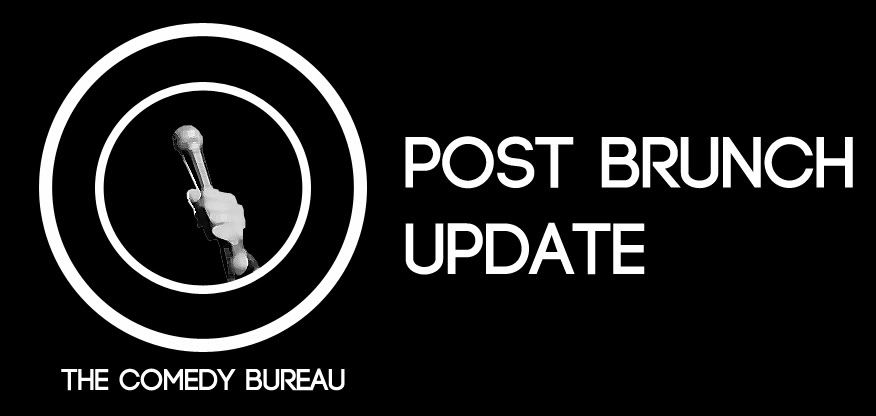 1) The Walsh Brothers Show @ UCB Theatre showed how beautiful the concept of a prank could really be.  Whether telling stories that are acted out in dazzling fashion of "pranks" being pulled on them or having guest performers pull "pranks" on the entire audience or enacting "The Popcorn Trick", one never gets a feeling of ill will towards Chris and David Walsh, but, instead, just simply has a spirited fun time.  Without tipping off too much, The Walsh Brothers offered an absolutely superb variety of acts ranging from hilarious sketches featuring themselves James Patterson reading letters to Billionaires and their subsequent responses to the amazing Tony Sam as Electroface, an insecure pro-wrestler, to even an amazing part of the show just called 'Personal Disco'.  Though some of The Walsh Brothers act may seem incredibly goofy at the beginning, Chris and David maintain such a great balance of commitment/fearlessness throughout whatever they're doing on stage that keeps the audience engaged to the end, which is actually quite genius.  If you really want to see what I'm talking about, the Walsh Brothers Show takes places frequently at the UCB Theatre and the Walsh Brothers themselves perform all around LA, so check back at the Comedy Bureau for details on upcoming shows.
2) BIG THANKS TO ALL WHO CAME OUT TO BIG TROUBLE IN LITTLE TOKYO OPEN MIC LAST NIGHT!!  IT WAS SO FANTASTIC WITH RYAN STOUT ACTUALLY COMING DOWN AND ACTUALLY GETTING AN APPLAUSE BREAK THAT IT NECESSITATES ME TYPING IN ALL CAPS!!!  DON'T MISS IT NEXT TUESDAY @ SEÑOR FISH, 422 E. 1ST ST. SIGN-UP 6:30PM/STARTS 7PM.
3) I know that already just eye-balling this tonight's COMEDY CRAWL, you might feel intimidated, but I'm just going to go ahead and say DEAL WITH IT!!! All these shows are going to be a damn good time and should not be missed.  Start off with Birds of Prey @ Steve Allen Theater (awesome video promo) 8PM $5, then Frolic @ Barbarella Bar 8PM FREE, then "If This Doesn't Work Out I'm Moving Home" A Variety Hour @ Harlem Place Cafe 8PM FREE, Maria Bamford's Eagle Rock Singalong and Comedy Show @ Center for the Arts, Eagle Rock 8PM $5 suggested donation, then You've Seen These Guys @ The Brea Improv 8PM $15/2 item min., then The Meltdown @ Meltdown Comics 8:30PM $8, then The Ed Galvez Punk House @ Westside Comedy Theater 9PM $8, then Beer in the Shower @ Whitehorse Cocktail Lounge Inn 9:30PM FREE, then Comedy Juice @ Hollywood Improv 10PM $14/2 item min., then Fresh Faces @ Hollywood Laugh Factory 10PM $20/2 drink min., then finish STRONG with the Anna Lee Lawson Comedy Hour @ The Next Stage Theatre 11PM $5.
4) OPEN MIC RUN: HOLLYWOOD STUDIO BAR & GRILL 6122 W. Sunset Blvd., Hollywood, CA/Sign-up 5:30PM/Starts 6PM, THE SPOT CAFE 4455 Overland Ave., Culver City, CA/Sign-up (lottery) 7PM, THE LIBRARY: A COFFEE HOUSE 3418 E. Broadway, Long Beach, CA/Sign-up 7:30PM/Starts 8PM, CAFE ON 2ND 7 S. 2nd st., Alhambra, CA/Sign-up 7PM/Starts 7:30PM/$3 cover/10 min. guaranteed, MARTY'S/THE OPEN MIC 7351 W. Sunset Blvd., Hollywood, CA (walk up Martel past Big Mama's and Papa's)/5PM to 11PM/$5/multiple sets allowed 
5) The lovely and talented Kate Micucci of Garfunkel and Oates just dropped her solo album Phone Home (don't worry, Garfunkel and Oates are still together), which I highly suggest that you check out/buy/download/support/listen to when you really need to smile.  You can do so right here.
6) The Comedy Bureau "Tips Its Hat" today to DAVEY JOHNSON-"@DrDavey I'm 8% clever, and 93% stupid."  Davey Johnson is a whirlwind of comedy in LA that definitely needs to be seen live to really experience the full force of hilarity.  Performing routinely with some of the best sketch groups in LA, which includes his own "The Doorknockers" with the also amazing Randy Liedtke featured weekly at "The Tomorrow Show w/Ron Lynch", Davey Johnson "rolls with it" in the best way possible.  You can see Davey tonight in the aforementioned Birds of Prey @ Steve Allen Theater 8PM $5 and at The Second Annual Best Doorknockers Christmas Pageant Ever @ The Steve Allen Theater Thurs. Dec. 16th 8PM $10.  Also, you can follow Davey on Twitter here.
7) From the "You Should Have Been There" Lagoon: Doug Stanhope's Comedy Death Camp
8) Donating blood leaves you sleepy and most likely unable to live tweet about it or subsequently laugh about it.  Avoid this situation by donating and following the Comedy Bureau.
9) Sometimes I feel so close to getting somewhere in comedy, which always seems to be accompanied by the feeling of going completely broke.
Report 00040
THE COMEDY BUREAU