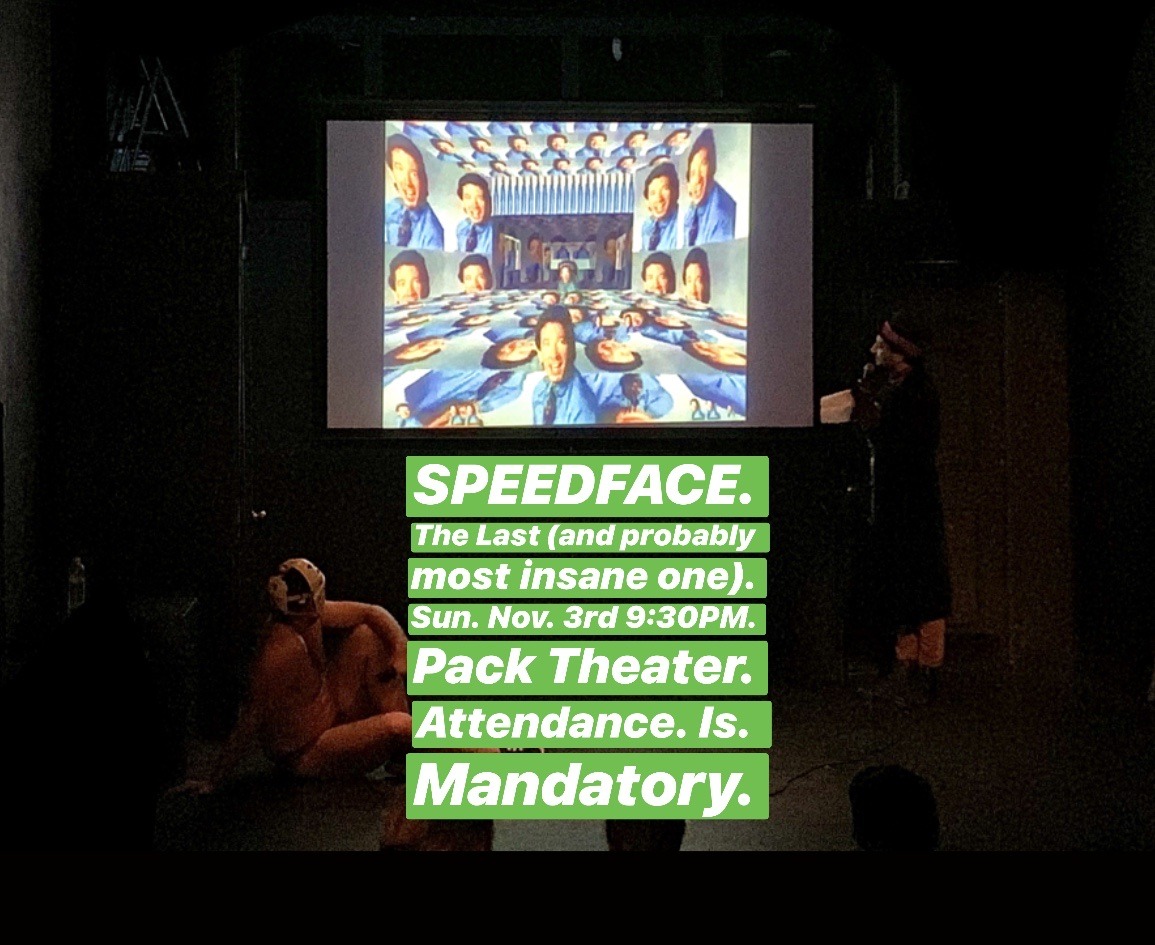 It truly has been an honor to get to be a part of Speedface (we've been helping produce it for a couple of years along with the show's creator, the great Eric Moneypenny), one of the most insane shows in and around LA and while it is sad to know that its swan song is this Sunday, we're thrilled by the idea that it's going to be one truly hysterical, out-of-this-world, headbangin' swan song comprised of bonkers 100 second comedy bits presided over by timelord Dr. Timef**k (Nick Gligor) and his time slave, the titular Speedface (John Paliferro). 
For this show, our line-up thus far is:
Leroy Patterson (America's Got Talent)
Dave Ross (Comedy Central)
Ed Larson (Murderfist, Last Podcast Network)
Sarah Squirm (Adult Swim)
James Austin Johnson (Hail, Caesar!, Better Call Saul)
Isaac Kessler (Canadian Comedy Award winner)
Erin Nicole Bounds (Detention)
Dominique Johnson (Haymaker)
Samantha Jane, Kaeli Quick & Jason Kaye
Leeann St. John & Christopher Corbin
Evan Watkins (Rabble Rabble, College Humor, Hell Kross)
Elizabeth Hayhurst (Haymaker)
J. Elijah Cho (AMC's Halt & Catch Fire, Some Sort of Show)
Michael Skarsten (Dreamboat) & Nick Pupo (Gutter)
Nicky Urban (Femmebot PHD)
Catherine Durickas (Rabble Rabble)
Grady James Welch (Hell Kross)
Elyssa Phillips & Angela McLafferty (Tantrum)
Katie Molinaro (Haymaker, Nickelodeon)
a special appearance by Royce Shockley (The Color Collective)
AND MORE! AND SUPER SURPRISE CELEBRITY GUESTS!
Really, we've got a lot up our sleeve (even more so than Home-Improvement-ized version of Doom in the flyer suggests). 
It's a little earlier than normal at 9:30PM, so all of you who thought our normal start time on Sunday was too late are now obligated to come! It's still pay what you can FYI. Get more details, RSVP, etc. here.