Post Brunch Update 1/7/11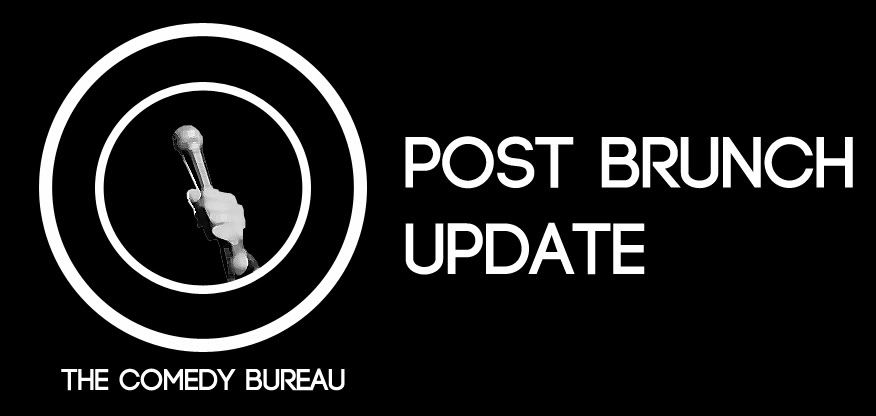 1) Due to time constraints and the limits of my own physical abilities, despite personal disregard for my own well being, the Comedy Bureau Morning Debriefing/Post Brunch Update will now be abbreviated to feature all things LA Comedy that need to be posted as early as possible.  As such, more involved, intensive articles, reviews, write-ups, opinion pieces, etc. will be featured separately in its own individual post like today's review of last night's amazing "Fifty First Jokes" in a few hours.
2) Tonight's COMEDY CRAWL has nothing to do with any massive numbers of birds dying or any other signs of a apocalpyse, so that's enough reason right there to go.  Bob's Burgers @ Largo-The Coronet Theatre 8PM $20, Garfunkel and Oates @ UCB Theatre 8PM $10 (stand by only), Norm MacDonald @ Hollywood Improv 8PM $20, Stood Up Friday Night @ Moving Arts Theatre 10PM $5.
3) OPEN MIC RUN: iCANDY 1708 E. Broadway, Long Beach, CA/Sign-up 6PM/Starts 7PM/$3 min., TRICLOPS @ SILVERLAKE LOUNGE 2906 W. Sunset Blvd., Los Angeles, CA (silverlake)/Sign-up (lottery) 6:30PM/Starts 7PM, GLENDALE DAYS INN 450 N. Pioneer Dr., Glendale, CA/Starts 8PM, TRINITY CHURCH OPEN MIC 1015 California Ave., Santa Monica, CA/Starts 8PM/must work clean, SAPPHIRE LOUNGE @ NEWPORT BEACH RADISSON 4545 Macarthur Blvd., Newport Beach, CA/Starts 9PM/msg David Marley on Facebook to sign-up, MARTY'S/THE OPEN MIC 7351 W. Sunset Blvd., Hollywood, CA (walk up Martel past Big Mama's and Papa's)/5PM to 11PM/$5/multiple sets allowed.
4) The Ultimate Free & Cheap List 1/9-1/16. Thanks Wisepix.
5) Tonight at Gallery 1988 7PM, "Is This Thing On?" debuts scores of artists and their take on some of the most prolific and popular comedians of the current moment (i.e. there's a painting of Louis CK as a zombie.)
6) Marc Maron and the WTF Podcast was just featured in the New York Times yesterday, which people hopefully don't attach to the simultaneous death of hundreds of birds just a few days ago like my Dad does (Dad's opinion of Maron "He seems angry. Hmmmm.")  Just read it.  It's important.
7) The Comedy Bureau "Tips Its Hat" today to SHAWN PEARLMAN "@shawnpearlman It's 10PM. Do you know where my watch is?" Shawn has some of the best, sharpest one liners in Los Angeles and you shouldn't miss a chance to catch his cleverness. Website. Twitter. Check back at the Comedy Bureau for upcoming dates.
8) From the "You Should Have Been There" Lagoon: Josh Fadem Stand Up Pratfalls
9) Donate to the Comedy Bureau. That is… if you ever want to laugh again. (*note: I have no ability to make people incapable of laughter).
10) I'm on a show tonight that has a theme of "Happily Ever After".  The fact that I'm on a show with that theme is hilarious.
Report 00077
THE COMEDY BUREAU