John Oliver Destroys a Piñata, Literally
Outside of a digging deep into an issue that's far too overlooked or explaining a controversial, divisive one, Oliver had the week off on Last Week Tonight and decided, in his absence, to leave us a video where he takes on a piñata.
Verbally and physically, piñatas, or at least the one he takes to with a colorful blunt force object, may never be the same.
Post Brunch Update 11/4/10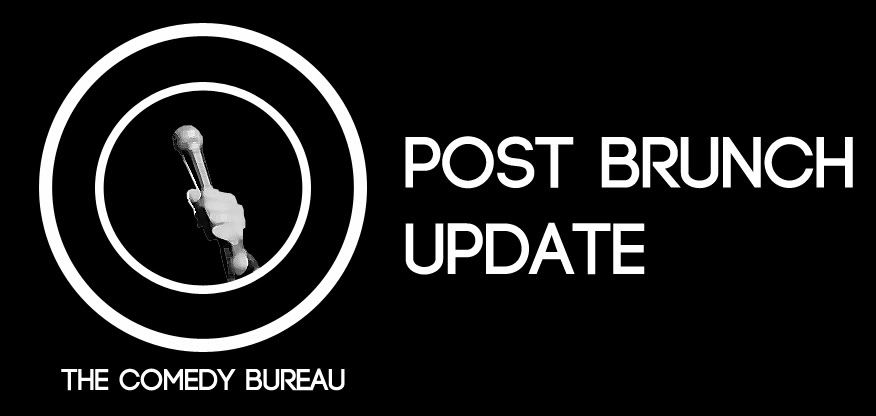 1) It's a theory that the further you drive outside of Los Angeles proper, the more stage time you can get as a comedian.  Cafe on 2nd in Alhambra gives more support to that argument as you are guaranteed at least 10 min. after $3 cover.  Being a mixed mic, musicians and poets actually want to listen to your set as opposed to bitter comics trying to going over their set or figuring out a riff off of you.  Though I had to pay $3 and had to drive to Alhambra, all the way in the heart of the San Gabriel Valley, I ended up getting 15 min., which is indispensable to building an act/developing stage presence/making sure you don't bomb for 5 min. when it counts.  Another "Bureau Approved Open Mic" Cafe on 2nd runs every Wed. and Thurs.  Sign-up at 7PM. Starts at 7:30PM. $3 cover. 7 S. 2nd St., Alhambra, CA.
2) I don't know why I've never been to Ed Galvez's Punk House before, especially knowing that he puts up some of LA's funniest on a stage in an alley behind the 3rd St. Promenade in Santa Monica.  With Sean Green at the reins, Eli Olsberg, Mike Holmes, Josh Androsky, Matt Manser, Erin Crapser, Ed Galvez himself, and a surprise appearance by Geoff Brousseau made for a night way more entertaining that watching people argue with the Christian evangelist on the actual 3rd St. Promenade.  Running for over 4 years, Punk House is a testament to legitimately hilarious comedy shows outside of the Hollywood trifecta of the Laugh Factory, Comedy Store, and the Hollywood Improv.  Ed Galvez's Punk House @ The Westside Comedy Theatre. 9PM Every Wednesday. $8. 1323-A 3rd St., Santa Monica, CA (in the alley).
3) The comedy crawl has too much comedy tonight for a clever metaphor.  There's just not enough space in this post to tell you literally how much amazing, astounding, fantastic, phenomenal, stupefying live comedy there is tonight.  That's why I'll get to it now, right after I finish typing this very sentence that you're reading.  Go to MB Stand Up @ Flappers Yoo Hoo Room 7:30PM $5/2 drink min., then Literally Funny @ The Last Bookstore 8PM FREE, then Piñata @ Bang Comedy Theatre 8PM. $14, then Comedy Speakeasy w/Eric Andre and Amy Dresner @ TSR Loft (call 323-568-1616 for details), then Laugh for Haiti @ The Comedy Store 8PM $25/2 item min., then Full Throttle Comedy @ The Hollywood Improv 8PM $14/2 item min., then As Seen on Chelsea Lately w/Ryan Stout & Christina Pazsitsky @ Brea Improv 8PM $15/2 item min., then The Josh & Josh Show @ Bar Lubitsch 8:30PM FREE, then "That's My Baby" @ Barre Vermont 9:30PM FREE., then Jeff Garlin's Combo Platter @ The UCB Theatre 9:30PM $5.
4) LA Comedian/a quarter of the Southern Comedy Quartet Jarrod Harris has a new webseries, Action Figure Therapy, which amazingly manages to be more therapeutic for anyone watching than the actual "action figure" supposedly getting therapy.  Check it out here.
5) Donate. Please. Donate to support the Comedy Bureau. Please. Unfortunately, I don't think Pavlovian response applies here, but please donate.
6) The Comedy Bureau Calendars freshly updated w/ Jon Lovitz Comedy Club, Bang Theatre, and Sal's Comedy Hole.  Doubt it?  See for yourself.
7) Breaking news for the Big Trouble in Little Tokyo Open Mic.  There will be a 50 ft. cable to walk around almost like it's a wireless mic.  Also, to kick off with a bang and a mic toss, there will be inaugural performances to the incomparable Joe Braza and Lauren Rochelle.  Nov. 9th. 6:30PM. Señor Fish. 422 E. 1st St., Los Angeles, CA
8) I think there's a PG way to go about suicide jokes.  There better be… BECAUSE I HAVE NOTHING ELSE!!!
Report 00013
THE COMEDY BUREAU