Post Brunch Update 11/21/10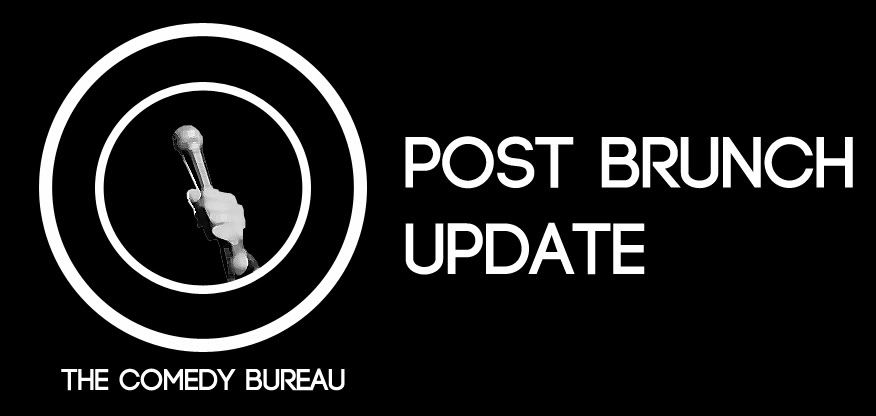 1) Comedy Garage Thanksgiving Charity Bonanza @ The Comedy Garage was quite simply how comedy inside someone's garage is supposed to be done.  Not to be confused with other attempts at "garage" based live comedy, there were no hints of the inner workings of a comedy club (i.e. matching seats, nicely decorated stage, curtain, etc.) and also none of the pain of spending $15 on cover and having to pay a 2 drink minimum as Comedy Garage is completely free and often has beer to go around or, in last night's case, FOUR LOKO.  Instead of that overwhelming nature of a comedy club, there was a very chill, inviting house party atmosphere with people playing beer pong and enjoying each other's company on the various collections of chairs and couches huddled around the astroturf-covered stage.  One comedian during the show actually commented how the garage would be a high school kid's dream with all the random assortments of snowmen and plastic penguins with a Gene Simmons mask fixed on it, though there was none of that childish negativity that festered back in high school (or at least that was my experience).  In fact, the party goes on smoothly for a few hours before the show to get everyone in the perfect mood for a great live comedy show exceptionally produced by Sean Green, Cornell Reid, and Paul Danke.  Despite temperatures dipping below 50, the Comedy Garage proved its great reputation for a "damn good time" with a crowd almost entirely of regular audience members who got to enjoy the likes of Brooks Wheelan, Joselyn Hughes, Alysia Wood, Rob Christensen, and the Comedy Garage gang (Sean, Cornell, and Paul) themselves.  The Comedy Garage happens one Saturday a month in a garage in Burbank.  Check back at the Comedy Bureau for details on the next one.
2) Harry Potter is estimated at a $125 million opening this weekend and runs about 2 and ½ hours long.  The more than 20 shows that I listed over this weekend didn't even come close to equaling half a percent of that total and offered about 10 times the duration of amazing entertainment.  Yeah, I know the numbers don't work out exactly, but it's worth it more to go on tonight's COMEDY CRAWL-Start with Jeff Garlin's Combo Platter @ UCB Theatre 6PM $2 (stand-by only), then go to Chris Fairbanks Stand-up Comedy Special Taping @ M-Bar 6:30PM RSVP at fairbankscomedy@gmail.com, then ASSSSCAT @ UCB Theatre 7PM FREE, then Trick @ Bordello Bar 8PM FREE, then Comedy Without a Cause @ Boardners 8PM FREE, then French Toast @ Taix 8:30PM FREE, then Dave Nieker's 5 Comics @ Flappers Burbank YooHoo Room 9PM $10/2 drink min., then Top Story Weekly @ iO West 9PM, $5, then Mapping the Heavens @ UCB Theatre 9:30PM $5.
3) OPEN MIC RUN: PALMS 8572 Santa Monica Blvd., West Hollywood, CA/6PM, SUNSET GRILL 7439 W. Sunset Blvd., Hollywood, CA/7PM/one item min., MARTY'S/THE OPEN MIC 7351 W. Sunset Blvd., Hollywood, CA (walk up Martel past Big Mama's and Papa's)/5PM to 11PM/$5/multiple sets allowed
4) With the frequency and ferocity that the Comedy Bureau has been hitting open mics, I've updated the Greater LA Open Mic Map with new spots and added the reviews to each spot, letting you know whether it's "bureau approved" or not right here.  Also, the Calendars section just added the Downtown Comedy Club and Second City Hollywood (though I still haven't figured out a flash workaround that doesn't take traffic away from their site).  Check that out here.
5) The Comedy Bureau "Tips Its Hat" today to ABBEY LONDER. On Facebook, Abbey wrote, "Listen lady– I can't tell whether or not your baby is a boy or a girl.  So when I say 'what's this little man's name?' and you get alllll offended and say 'what does he look like a boy or something?' please know that I don't care.  Also:  I made your non fat latte with half and half.  Happy Holidays, bitch."  Check her out at the Hollywood Improv tonight at 9PM or, if you really like her, go to the second-to-last of her awesome "Sweet and Sour Comedy" at Genghis Cohen this Tuesday 7PM $5/free for comics.  Also, THIS is her badass website.
6) I don't know how Little Tokyo is still standing, but since it is, we're going to have another BIG TROUBLE IN LITTLE TOKYO OPEN MIC this Tuesday Nov. 23rd @ Señor Fish (422 E. 1st St. in Little Tokyo). Sign-up 6:30PM. Starts 7PM.  HUGE HINT: I try to not cut off the list, meaning if you get there by 9PM, I'll get you up.  Oh yeah, let's all go to Holy Fuck!'s One Year Anniversary afterwards.
7) LIVE TWEETING/ME TRYING TO KEEP MY SANITY/CONVINCING PEOPLE I'M NOT GOING TO JUMP OFF THE 4TH ST. BRIDGE nightly, all right here.
8) "Going for donation number 2… Donation number 2, anyone?  Anybody?"-The Comedy Bureau Donations volunteer…. if we could afford one.  Please donate here.
9) It's amazing how people always tell me these two things about this blog together.  "Jake, I love your blog.  It fills a need for LA Comedy." and "I'm just waiting to see one or two years down the road when your optimism burns out."  I love all of you too.
Report 00030
THE COMEDY BUREAU