Post Brunch Update 11/9/10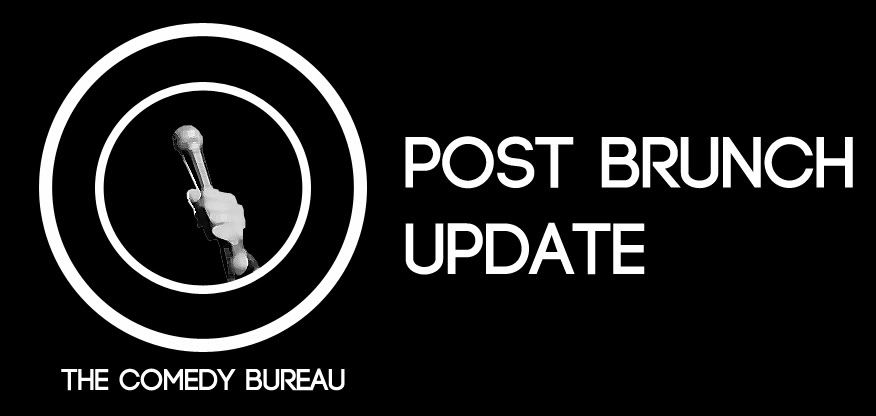 1) IT'S HERE (fear/surprise)! The Big Trouble in Little Tokyo Open Mic @ Señor Fish is tonight and it's definitely going to be something that Jack Burton COULDN'T HANDLE!  Not to REALLY worry, as I, Comedy Bureau Director Jake Kroeger, is on the case along with some guy named russell corona too.  The brilliant Joe Braza and sensational Lauren Rochelle will be gracing our stage for this awesome inaugural night. Raffle for 2 "15 min. drop in spots" the following week, $2 damn good fish tacos, a stage, 50 ft. cable, and some other aces up my sleeve that Jack Burton also couldn't handle.  6:30PM Señor Fish. 422 E. 1st St., Los Angeles, CA.  Come down, IF YOU DARE… (no, just come… it'll be a great ol' time, I swear…)
2) So those not lucky enough to witness the live tweeting at Marty's/The Open Mic missed out on me doing jokes vs. a helicopter and though I tweeted otherwise, I won.  My jokes beat out a HELICOPTER!  This mostly means I made the four people watching me out on the patio laugh.  Don't worry.  At Marty's, there is an actual stage with various lounge and office chairs positioned intimately.  In fact, with that patio/performing area, there are often times two stages going on AT THE SAME TIME, so you don't have to wait that long before going up again.  You also read that right, you get to go up more than once at Marty's.  You actually get to go up as many times as you want from 5PM to 11PM EVERYDAY to really tighten/break-in any aspect of your act.  Even though there's a $5 cover (which also affords you decent coffee and bottled water), going up several times a night on a given night during the week is invaluable.  Marty's/The Open Mic $5 5PM to 11PM/Everyday. 7351 W. Sunset Blvd., Hollywood, CA.
3) "What's Up Tiger Lily?" @ Hollywood Studio Bar & Grill last night proved why it's in the small company of the longest running independent comedy shows in LA.  Simply,"What's Up Tiger Lily?" has some of the funniest people not only in LA, but throughout the world (Louis CK has dropped-in), that you can see for absolutely free (no cover/no min./free parking).  It will prove that Stand Up Comedy is very much alive, despite the impression one gets largely from TV and foul-mouthed shock and awe comics.   Always exactly on-point with all his comedy, Matt Knudsen hosted this edition of "What's Up Tiger Lily?" with some of comedy's best that "leave-the-building-in-ruins" including Ryan Stout, Nick Kroll, Jamie Lee, Nicholas Rutherford, Doug Mellard, Dave Huntsberger, and Matt Champagne.  I actually convinced a couple who weren't there for "What's Up Tiger Lily?" to stay and watch the show because the line-up was that damn good.  "What's Up Tiger Lily?" Every Mon. 8PM. COMPLETELY FREE. Hollywood Studio Bar & Grill. 6122 W. Sunset Blvd., Hollywood, CA.
4) Yes there's some Big Trouble in Little Tokyo, but there's some safe, hilarious, good times elsewhere in LA on tonight's COMEDY CRAWL.  Start off with Sweet and Sour Comedy @ Genghis Cohen 7PM $5 (free for comics/message Abbey Londer for comp list), then go to Laugh for Sight @ Hollywood Improv 8PM $50/2 item min., then go to Comedy Death Ray 8:30PM $5 (stand by only), then Sausage and Smiles @ DiPiazza's 9PM $5, then Blamblamblam @ R-Bar 9PM FREE, and finish off with Killing Room @ Palms/Club 8572 9:30PM $10.
5) If you're again saying to yourself, "Inside, you win. I'm just going to stay at home," you might have some issues that I can't help and you should probably watch the second episode of Conan's triumphant return to TV at 11PM on TBS, then watch another quarter of the awesome Southern Comedy Quartet, Rory Scovel on Late Night with Jimmy Fallon 12:35AM on NBC.
6) The Comedy Bureau would like to its relatively long reach, depending on how you look at our scope of LA Comedy, for a congratuations to Josh Covitt for winning X-ecution Improv Tournament and wishes him the best in making his way even further towards the top of the proverbial comedy mountain.
7) Support the Comedy Bureau because it supports you, that is, if you like LA Comedy.  If not, well… just donate for taxes purposes/supporting the arts/doing your good deed for the day.  Please.
8) Comedy Milestone: I'm so funny I got free dinner without even performing.  Obviously, I haven't had that many comedy milestones.
Report 00018
THE COMEDY BUREAU