Finally!!! It's Saturday Night and I Need a Laugh (and I'm in LA)…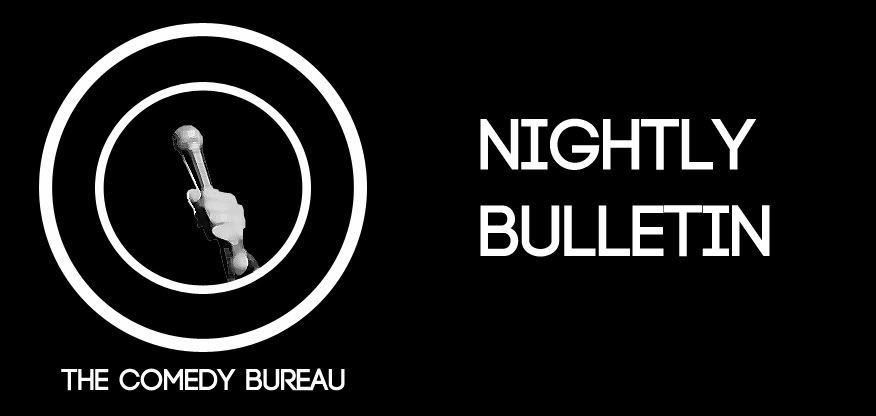 To both consumers and producers of live entertainment alike, Saturday is THE prime night.  As far as live comedy is concerned, many venues want to put their best foot forward as most of the workforce wants a "good ol' time" filled with laughter and will pay HANDSOMELY to be entertained.
On Jan. 29th 2011, The Comedy Bureau was indeed out in force to see what a night in LA comedy for those regular 9-5ers that have no idea what "alternative comedy" is or that it even exists or that comedy shows happen outside of comedy clubs.  With this mission, the Comedy Bureau went to the three big names that many "normal" people in LA and around the world associate with stand up comedy: The Comedy Store, The Laugh Factory, and the Hollywood Improv.  Also, as a contrast, we went to the incredibly underground, cult comedy show The Tomorrow Show w/Ron Lynch at the Steve Allen Theater.  
We paid full price.  We saw.  We shed our attitude as comics and tried to be actual audience members.   We took notes.
And with all of that in mind, this, comedy community, is what to expect if you went to see these shows because you wanted to laugh on a typical Los Angeles Saturday night:
Lit with bright names and big faces along Sunset Blvd., the Laugh Factory in Hollywood stands on at the end of a row of beyond hip and trendy AND certainly beyond affordable night clubs and, as such, follows suit with a general admission charge of $25 and a "VIP" charge of $35 with that traditional 2 drink minimum.  According to their menu, a single order of Coca-Cola (soft drinks tend to be the cheapest things on comedy club menus) runs $8.
This means: If you were going alone and chose to park for free several blocks away from the Laugh Factory, you would be paying at least $40.  If you're like most people, you're probably out on a date and will probably pay for valet parking, which will put you in the realm of the night costing $100+.
For that much money one would logically think that you would get to see the biggest names in stand up comedy.  At the 10PM show, which is billed as "All Star Comedy", the line-up included: Chris D'Elia, who just had a Comedy Central Special, but is largely still "on the rise" in regards to being a "name" in stand up comedy, Tony Rock, who is Chris Rock's brother, Al Del Bene, who been on Comics Unleashed (broadcast network show featuring stand up comics that's on at the same time as Last Call w/Carson Daly), Dov Davidoff, who also has his own Comedy Central Special, but is largely known for his performance in the Mark Wahlberg vehicle "Invincible" as the childhood friend of Vince Papale that reminds him of his roots,  Johnny Sanchez who I also found has his own Comedy Central Special as well as being part of the "Payaso Comedy Slam", and a secret special guest.  Such a line-up isn't exactly along the lines of the type of comedy that the Comedy Bureau regularly features as this is a very "mainstream comedy" line-up that talks about racial stereotypes, sex, and curses a lot, but then again, everyone has their own personal taste in comedy and I've seen such a line-up "kill" a club crowd before.
With that being said, we didn't know find out who the special guest was because we didn't see the show.  We wouldn't pay $40 to see Louis CK much less a line-up of comics on the rise that aren't really aren't our "cup of tea".
Several blocks away from the Sunset Strip, the Hollywood Improv rests in a neighborhood of trendy boutiques along what's arguably the more famous part of Melrose Ave as a clear stand out with it's old fashioned neon sign and marquee.  In that spirit, the Hollywood Improv actually runs several shows that are closer to what most traditional stand up shows around the rest of the country with openers, features, and headliners.  This is unique to the Improv as, currently, no single comic headlines the Comedy Store or the Laugh Factory, though there are several features there as opposed to the standard 1 or 2 in their line-ups and the headliner only gets to do half an hour as opposed to a full hour.  Still, this is the closest you'll get to what most stand up shows are like everywhere that isn't LA or NYC in LA.
We also looked forward to the sight of slightly friendlier prices.  Unlike the Laugh Factory, the cover was only $18 plus the 2 drink minimum, of which a beer, not a glass of Coca-Cola, costs $7.  Free street parking was slightly more available at the Improv and much closer to the venue than at the Laugh Factory or the Comedy Store.
Getting into the Improv, we attended the 7:30PM show w/Elon Gold, who has been on the Tonight Show with Jay Leno several times, half-packed with what appeared to be friends of host Ben Morrison, a regular at most of the clubs in the LA area.  Morrison opened the show strong, but ran the light/went over his time by about 4 minutes with typical club comic material about masturbation and going to gay bar, which was trying. 
Despite that, we were glad to see that other comics on the line-up included a few that have been mentioned, featured, or retweeted on Twitter by The Comedy Bureau: Josh Comers, who currently and deservedly writes for Conan, Jarrod Harris, who has only been on Comedy Central's Live at Gotham, but is certainly funny enough for a half-hour special, Michelle Buteau, who has been on Comedy Central's Premium Blend and has toured regularly throughout the world as far as Amsterdam.  All of them, another feature Nigel Lawrence, and headliner Elon Gold, even though he relies heavily on a vast array of voices and characters in a way that isn't much to our liking, showed the "intimate" crowd a legitimate good time that ran around 2 hours.  
Once more, with no regard to my opinion of who was on stage and what material they were doing, people genuinely had a good Saturday night at the Hollywood Improv.
The World Famous Comedy Store.  Just process that self-proclaimed moniker for a moment and think as to what type of stand up comedy show you would see there.  With so much history literally written on the walls of the Comedy Store, many people have come to the assumption that this is the epitome of stand up comedy.
In fact, I'd wager that most people would equate a Saturday night at the Main Room of the Comedy Store, the biggest of the three rooms located there, to be the stand up comedy "end all be all".  Along this notion, we went to the 9PM Main Room show costing us $20 for admission and a 2 drink min billed as 14 National Touring Headliners.
Looking at the posted line-up, we discovered that all the comics were scheduled to do 15 minutes, which already makes the show at least run over 3 hours.  Now many show producers have the attitude of "you may come and go as you like" to a show like this, but I argue that a show where the audience WANTS to stay the whole time is infinitely better and will be more likely to have people come back and see the show again.  
However, this show ran 4 hours. 4 HOURS.  With a line-up (in order) of Kevin Christy, Argus Hamilton, Jeff Altman, Iliza Schlesinger, Dom Irerra, Ahmed Ahmed, Chris D'Elia, Ian Edwards, Rick Ingraham, Sam Tripoli, Mike Young, and Barry Diamond, the show went 4 hours and having fulfilled my 2 drink minimum obligation within the first hour, I was plenty sober and annoyed by the end of the show around 1:30AM. 
Now, the aforementioned line-up at this particular show isn't one that I'd normally go and see (though I did enjoy Argus Hamilton and Ian Edwards), but, in attempting to be objective about this whole report, the crowd of approximately 200 people were legitimately having a good time even when Chris D'Elia, who was getting plenty of laughs, told the audience, "Fuck you!! That's funny!!!" all the way up until Rick Ingraham.  
Ian Edwards had a great set and consequently the show was around 2.5 hour mark, then Ingraham went up and did a very rigid style of crowd work asking anyone within his line of sight "What do you for a living?" An audience member was so annoyed that they shouted, "Tell a fucking joke!", which was the point where people started walking out on the show.  Sam Tripoli continued to walk people as he complained that no one made a connection with him and blamed the audience for not liking punchlines. With only himself and one more comic to go, Mike Young got up and then complained about his spot being nearly a half hour later than the posted time (since most comics went over their time) as well as there being a minute fraction of the original crowd present for his set.  With the 20 or so people left in the cavernous Main Room that can actually seat 300, Barry Diamond injected some energy by singing a song and then weaving in and out interesting characters and sheer absurdities that I started to enjoy.
At that point when the show was over the 3 hour mark, Barry Diamond decided to work on his "hour" and simply just kept going and going and going and going some more, and then say he should have gotten off stage long ago, and then kept going.  I went from enjoying his act to resenting his refusal to get off stage, both as a comic and an audience member.  This isn't an open mic.  This is the Comedy Store Main Room on a Saturday night and people have paid a considerable amount of change to be entertained rather than watch someone work on their hour.
Like I said, I perhaps didn't enjoy the line-up for the most part, but, objectively, the crowd was having a good rollicking time up until the show was passing the three hour mark and the comics starting blaming the audience, which is when people started leaving and the people they stayed had sort of a feeling of being taken hostage (i.e. couple in front was insulted by comic on stage and was visibly shocked and confused).  Going out on a Saturday to the Comedy Store Main Room, this ordeal might be what to expect if you go. Sure, you could just pop in and pop out to see part of the 14 National Touring Headliners that people only marginally know (audience member clearly had no idea who Iliza Shlesinger, arguably the most recognizable name on the line-up, as he mispronounced her name), but do you really want to pay $20 cover, 2 drink minimum, and $15 parking because you don't want to walk a mile for free parking to do that?
The Tomorrow Show w/Ron Lynch @ The Steve Allen Theater
Appropriately located just outside of Hollywood in Los Feliz, the Tomorrow Show represents the comedy that most people don't know and subsequently SHOULD KNOW.  It's alternative, indie, underground, unpredictable, and most importantly: funny.  
Independently booked, produced, and hosted by the amazing and hilarious Ron Lynch, the Tomorrow Show is a live variety comedy show that includes stand-up, sketch, music, and, on this particular night, a sword swallower.  For only $8 with no minimum of any kind (show is B.Y.O.B.), you can get to be a part of this late night madness as the Tomorrow Show appropriately starts at midnight.  
Due to the incredibly late, at least by unfortunate Los Angeles standards, start time, the Tomorrow Show remains part of the vast indie/underground/alt comedy scene that many of the "normal" people we met at the Improv and the Comedy Store have no idea exists and consequently has a much smaller turnout than that of a major comedy club.  Still, going on its sixth year, the Tomorrow Show has an incredibly loyal fan base that keeps coming back because of the bona fide good time that they have (that was made better as it was under 2 hours).
This night, or early morning, the line-up consisted of Greg Barris, Karl Hess, Robert Selander, Chuck Sklar, Barry Rothbart, Matt Kirshen, sketch group the Doorknockers, and sword swallower Brett Loudermilk.  Most of these names are just as unrecognizable to the average person as any of the other names mentioned in this article, but just like at the Improv and the first 2 hours of the Main Room at the Comedy Store, the crowd, small as it was, had a wonderful night/early morning.
 With seemingly random interruptions, jokes about zombie conspiracy theories, and absurd, off-the-wall stories, the Tomorrow Show can be categorized as chaotic, especially in the early hours of the morning, but it represents a style of comedy that is different where it isn't just typical types of jokes about race and/or dicks.  Though, it isn't for everyone, the Tomorrow Show is proof that there's an alternative where comedy can be something else and even something more.  
So Next Saturday Night…
The Comedy Bureau urges you all to simply check here and elsewhere before you go out on a Saturday night to see some live comedy because it does happen outside of Hollywood and outside of a comedy club and it can be something besides overweight balding men shouting obscenities and exploit racial stereotypes AND it can be fantastic.
Special Thanks to Chris Adams, Joe Braza, Russell Corona, Courtney Howerton, and Jeremy Paul in helping making this article possible.