1) Umm, you guys know that This American Life will be performing an episode this Thursday in movie theaters across the U.S. and Canada and Australia, right?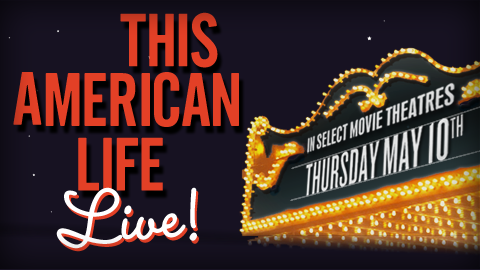 2) Episode 1 of Paul F. Tompkins uber-classy interview with cocktails show Speakeasy with guest Ty Burrell.
3) Following his Between Two Ferns special that aired last night (which you can now watch online), Zach Galifianakis is now in a political smear-off with Will Ferrell…
4) Tonight on late night:
Admiral General Aladeen (Sascha Baron Cohen) on The Daily Show (Comedy Central 11PM) 
Matt Walsh on Conan (TBS 11PM)
5 Second Films on Last Call with Carson Daly (NBC 1:35AM) 
5) Girls' Lena Dunham on her critics on NPR…
6) Sketch group Dead Kevin doesn't know how to not do an interview, maybe, right, OK?
7) Comedy abroad-ish:
Dan Telfer @ The Comedy Attic May 10th-12th $12
8) In addition to comedians releasing their own specials, comedy albums on vinyl seem to be taking off as Hannibal Buress will be joining Kyle Kinane and Jonah Ray in releasing his latest special Animal Furnace also on vinyl.
9) On today's Puddin', Eddie Pepitone + lemons + Patton Oswalt trying not to break + cameo by David Koechner = a better May 5th, 2012.
10) If you think you have writer's block, you probably just don't give a shit about what you're writing/don't think what you're writing is funny.
Report 00499
THE COMEDY BUREAU
@thecomedybureau
Like us on Facebook