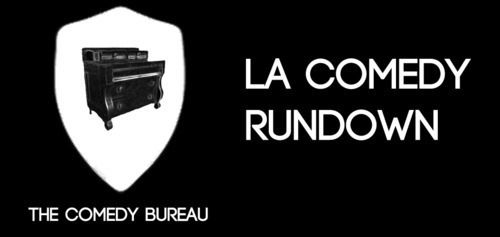 ON THE HORIZON
Mame That Chune @ UCB Theatre Fri. May 11th 8PM $10
Surprise! with Rob & Sofiya @ The Polish Plantation Fri. May 11th 8:30PM FREE
Maya Rudolph & Gretchen Lieberum are Princess @ Largo at the Coronet Theatre Thurs. May 17th & 18th 8:30PM $30 
COMEDY CRAWL
Brink of Extinction with Bryan Coffee @ Steve Allen Theater 8PM $10
FitzDog Radio Live @ Nerdist Theater 8PM $10
Comedy Bang Bang @ UCB Theatre 8:30PM $5 (stand by only)
Daytime Justice @ iO West 8:30PM $5
Blamblamblam! @ R-Bar 9PM FREE
Holy Fuck @ Downtown Independent Theater 9PM FREE
Public School Stories @ M Bar 9PM No cover/$10 min.
Looking for Lenny Screening @ Hollywood Laugh Factory 10PM $20-$30/2 drink min. 
OPEN MIC RUN
HOLLYWOOD IMPROV 8162 Melrose Ave., Los Angeles, CA/Sign-up 5:30PM-5:40PM/Starts 6PM/lottery/20 spots only/3 min./No purchase necessary
FLAPPERS BURBANK 102 E. Magnolia Ave., Burbank, CA/Starts 5:30PM/Stand-up, sketch, improv all welcome/5 min.
AMSTERDAM CAFE 10905 Magnolia Blvd., North Hollywood, CA/Sign-up 6PM/Starts 6:30PM
ANGELS & KINGS BAR 1708 N. Las Palmas Ave., Hollywood, CA/Sign-up 6:45PM/Starts 7PM/First come, first served/5 min./No purchase necessary
ROCKPAPER COFFEE CO 7509 W. Sunset Blvd., Hollywood, CA/Sign-up 6:30PM/Starts 7PM/Ends 8PM/Sign-up is lottery/One item min.
BROADWAY ALE HOUSE 129 Broadway, Santa Monica, CA/Starts 7PM/First come, first served/No purchase necessary
THE MOTH @ BUSBY'S EAST 5364 Wilshire Blvd., Los Angeles, CA/Sign-up 7PM/Starts 7:30PM/storytelling only/5 min./lottery w/cut off/$8
WESTWOOD BREW CO 1097 Glendon Ave., Westwood, CA/Sign-up 7:30PM/Starts 8PM/lottery/first come, first served/no purchase necessary
PEDONE'S PIZZA 1332 Hermosa Ave., Hermosa Beach, CA/Sign-up 7:30PM/Starts 8PM/Ends 9:15PM/5-7min.
TRIBAL CAFE 1651 W. Temple St., Los Angeles, CA (Echo Park)/Starts 8PM/mixed mic 
BLUE GOOSE LOUNGE 5201 W. Sunset Blvd., Los Angeles, CA/Starts 8PM/1 drink min.
WESTSIDE COMEDY THEATER 1323-A 3rd St., Santa Monica, CA (in alley between 3rd St. Promenade and 4th St.)/Sign-up 9:45PM/Starts 10PM/lottery/$1 cover
DAVE'S BAR 708 Broadway, Glendale, CA/Starts 10PM/first come, first served/one item min./8-10 min.
MARTY'S/THE OPEN MIC 7351 W. Sunset Blvd., Hollywood, CA (walk up Martel past Big Mama's and Papa's)/5PM to 11PM/$5 min./multiple sets allowed/bottled water and coffee provided