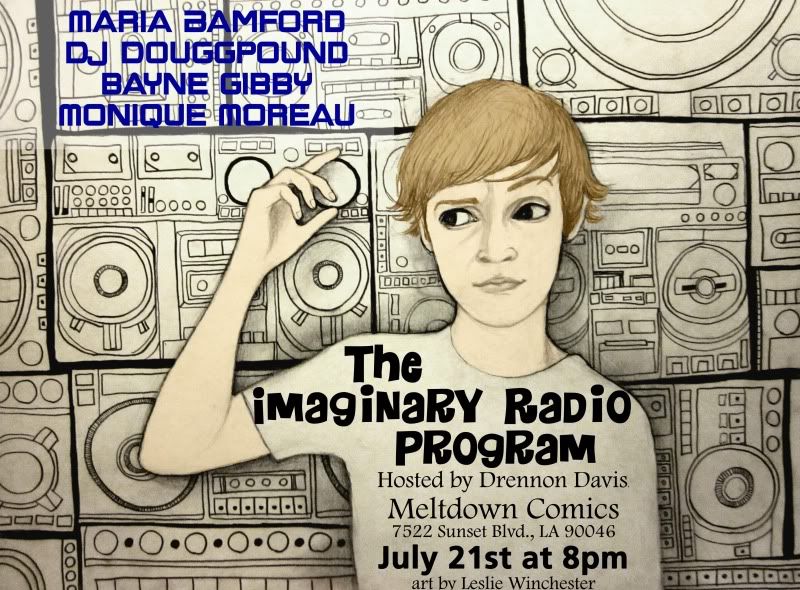 Ever hate what's broadcast on terrestrial radio these days?
Did you know that terrestrial radio even existed still?
Did you ever just enjoy switching between the radio stations on Grand Theft Auto?
Do you live anywhere near the LA area and need to see something both hilarious and groundbreaking?
Whatever your answers to these questions were, every single one of you reading this should just go and see Drennon Davis' rehashing of what radio should be, the Imaginary Radio Program as quickly as you can touch the dial on your car radio, which you probably never use anymore.
The Imaginary Radio Program, as a live comedy show, not only lives up to its name, but exceeds expectation in what you could possibly think it is.  Producer and host, Drennon Davis takes the audience on a journey through airwaves of his own brilliant comedic mind via innovative beatboxing/singing and a whole host of characters, voices, and impressions.  At a given moment, one can be getting into heavy metal song that Drennon samples all from his own voice and efforts, then witness the channel "change" to talk radio of someone who just can't stop talking about how much they love their cats to a channel that plays every Red Hot Chili Peppers song ever.  Despite the interrupting various "radio programs", Drennon's highly seasoned skills as a performer both comedically and musically allow for the live show to appear seamless.
Here's a solo version of the Imaginary Radio Program done at the Meltdown Show a few weeks ago.
As if Davis' beatboxing a ZZ Top song then turning the dial to the Mexican Hat Dance to Aboriginal music wasn't amazing enough, the Imaginary Radio Program also includes some of the best comedians, not only in LA, but some of the funniest people working today. Already, Brent Weinbach (Lopez Tonight), Moshe Kasher (John Oliver's NY Stand-Up Show), and Aisha Tyler (Archer) have been worked into a few of the hilarious "stations" during the show.  For the next edition of the program, Davis has enlisted the help of none other than the fantastic and amazing Maria Bamford, who has entire cadre of wildly original and hysterical characters to make for a whole separate edition of the Imaginary Radio.
With a stellar line-up of comedians as mentioned, the more amazing thing to watch is to see them in a whole different element outside of stand-up or sketch or anything that you've really seen before.  Though having just started it's run here in LA, it's one of those comedy shows that push the art form of comedy to places where laughs happen at the most wonderfully unexpected times and places. That's why we think it should take the place of what's actually on the real airwaves.
Though Davis has performed around the country, his show, the Imaginary Radio Program takes place monthly at the Nerdist Theater in the back room of Meltdown Comics.  For those that frequent the Nerdist Theater for their insanely popular Wednesday stand-up show Meltdown, be aware that other sensational shows like the Imaginary Radio happen on other days of the week.  In fact, you can catch the Imaginary Radio tomorrow on July 21st at 8PM for $10 with Maria Bamford, DJ Douggpound, and more.  If you can't catch this one, check back at the Comedy Bureau for details on the next episode.