Post Brunch Update 12/10/10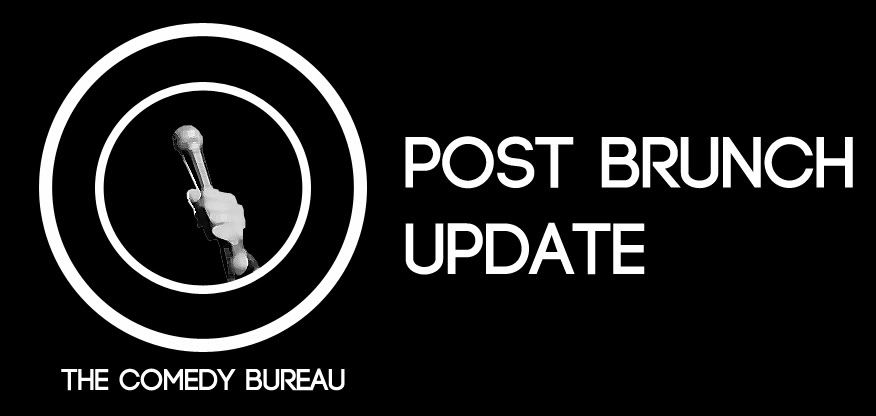 1) Persona @ Hollywood Improv Lab is where you can see the artistry in comedy at work.  As an all "character" live comedy show, all the performers commit wholeheartedly to a persona (hence the name of the show), which range anywhere from  "Reverend Boone Turde"… 
…to "Jason Nash's Father-in-Law"…
 
to Johnny Pemberton as a Tea Party Conspiracy Theorist.
In short, Persona is spectacular in ridding itself of all the conventions of a normal live comedy show that has a very neat structure of a showcase of comics or sketches and making a journey out of the entire experience with performers "interrupting" the show and interacting with the audience.  The audience is constantly drawn in with "out-of-the-box" costumes, voices, and are genuinely surprised by the end of any one of the fantastic performances as shown when Host Tony Sam, who also played a plethora of a hilarious characters, choked a puppet of himself.  Last night's audience at the Hollywood Improv Lab got to enjoy the immense talents of Davey Johnson, Johnny Pemberton, Fred Young, Chris Walsh, Jason Nash, and the amazing sounds of Ogre Mage and certainly got more than their $5 worth of entertainment.  Persona! will be on every second Thursday of the month at the Hollywood Improv Lab promptly at 8:30PM.  Check back at the Comedy Bureau for more details.   
2) Just because tonight's COMEDY CRAWL is manageable doesn't mean it's one to ignore.  It simply means that you can actually make it to more of the best live comedy shows in LA.  Start off with Laughs Without Liquor @ Plummer Park 6PM/8PM $20, then go to Jackie Kashian @ Flappers-Claremont 8PM/10PM $15, then go to Tammy Jo Dearen's Laughing Stock @ The Palms 9:30PM $10, then end the night on a good note with Stood Up Friday Night @ Moving Arts Theatre 10PM $5.
3) OPEN MIC RUN: SUNSET GRILL 7439 W. Sunset Blvd., Hollywood, CA/Starts 6PM/one item min., iCANDY 1708 E. Broadway, Long Beach, CA/Sign-up 6PM/Starts 7PM/$3 min. SILVERLAKE LOUNGE 2906 W. Sunset Blvd., Los Angeles, CA (Silverlake)/Sign-up (lottery) 6:30PM/Starts 7PM, MAX BLOOM'S 200 N. Malden Ave., Fullerton, CA/Starts 7PM, GLENDALE DAYS INN 450 N. Pioneer Dr., Glendale, CA/Starts 8PM, SAPPHIRE LOUNGE @ NEWPORT BEACH RADISSON 4545 MacArthur Blvd., Newport Beach, CA/Starts 9PM/Contact David Marley for sign up, MARTY'S/THE OPEN MIC 7351 W. Sunset Blvd., Hollywood, CA (walk up Martel past Big Mama's and Papa's)/5PM to 11PM/$5/multiple sets allowed.
4) The Ultimate Free & Cheap LA Comedy List 12/12-12/18.  Thanks Wisepix.
5) Punchlist Magazine is currently having their Punchlist 2010 which anyone can vote for via Facebook.  However, sifting through the nominees might be a bit difficult, so here's a CHEAT SHEET (I apologize if I seem indecisive on a few of these). Best Stand Up Comedian on TV: Louis CK, Best Comedy Show on TV: Louie OR Modern Family, Best Musical Comedy Act: Garfunkel and Oates OR Reggie Watts, Best Sketch Group: Birds of Prey, Best New Podcast: The Morning After OR The Biggest Mistake, Best Comedy Website: ——–(just pick one as the Comedy Bureau is not on there), Best Tweeter: Eddie Pepitone OR Cornell Reid OR Jim Hamilton, Best Comedy Festival: Bridgetown Comedy Festival, Best Improv Troupes: (pick at your own discretion as I have not been to enough improv shows this year to make an informed decision) 
6) The Hollywood Laugh Factory officially broke the record for longest running live comedy show with their Comicthon with an astounding running time of over 80 hours.  Finishing around 10:30PM last night, the achievement was supported by the likes of everyone from Dave Chappelle to a fearless Maronzio Vance going up at 5AM.  This tops the previous mark made by the Comic Strip in NYC, which I myself will try to top by having a non-stop live comedy show within my own head without admitting myself to a mental ward.
7) Comedy Death Ray Nativity Pageant's Auctions are still going for a few more days for the benefit of the LA Regional Food Bank.  Go auction here for such exciting items as a private performance from Garfunkel and Oates to Brian Posehn and Steve Agee watching Steven Seagal with you to Sarah Silverman skyping with your family at Christmas to even a private performance from Maria Bamford.  Bids right now are ranging anywhere from $120 to over a $1000, which immediately puts me out of the running with my "auction budget" of $5.34.
8) The Comedy Bureau "Tip Its Hat" today to KYLE KINANE-"@kylekinane The Winchester Mystery House is the physical equivalent of my thought process. "Oh, look–another staircase that goes nowhere."  Honored to have him ask me what the name for a labyrinth was and give him another "Tip of the Hat", Kyle was just featured as one of Comedy Central's Breakout Comics of 2010.  Just don't ever miss him performing live, especially since you'll have plenty of opportunities to do so in the next week at French Toast @ Taix Sun. Dec. 12th 8:30PM FREE, Melgard Mondays @ Melgard Public House Mon. Dec. 13th 9PM FREE, Sweet and Sour Comedy ONE YEAR ANNIVERSARY/BIRTHDAY BASH Tues. Dec. 14th 7PM $5, Blamblamblam @ R-Bar Tues Dec. 14th 9PM, Meltdown @ Meltdown Comics Wed. Dec. 15th 8:30PM $8, and finally Elfin Funny @ The Echo Sat. Dec 18th 7PM $5.  Kyle's Website and Twitter; don't forget about'em (even though they're pretty much the same)
9) From the "You Should Have Been There" Lagoon: The Lads-Mike O'Connell and Matt Dwyer, Et Al.
10) If I tweeted more, would I get more donations. It's a two birds with one stone type of a thing or just a convenient just to say it in one sentence.  
11) For those of you waiting for me to be more negative, I have one word for you: March.
Report 00049
THE COMEDY BUREAU