Anything But a "Cartoon Dump"
Almost a decade ago, an underground trend of "made-bad-on-purpose" cartoons started to rise. From Space Ghost: Coast to Coast all the way to Robot Chicken, Cartoon Network has almost developed a whole entire new vein of their brand based on said trend, Adult Swim.  Harkening back to very poorly produced cartoons of the sixties and seventies and even earlier then juxtapose clever and/or absurdist writing questioning the whole poorly defined cartoon universe has become popular to the point that it's pretty much its own genre.  
Yet, the original cartoons that are being referenced so frequently and tangentially are very close to being completely lost.  THANKFULLY, there is CARTOON DUMP, a live monthly show at the always amazing Steve Allen Theater in Los Feliz that continues this tradition of actually bad cartoons through actual screenings and live comedy sketches, stand up, and music.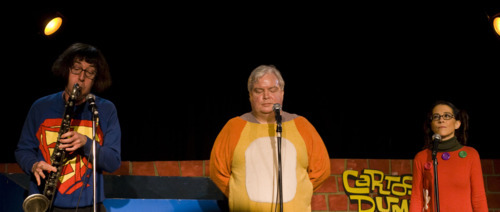 If you're curious as to how bad one of these "gems" are, consider one called "Captain Fathom", which utilizes animation technology so lo-fi that pretty much only the mouths are "animated" as a real human mouth is superimposed over the animation.  This program might sound interesting in a kitschy/nostalgic/hip sort of a way, but the writing, voice talent, etc. are to a "paint-by-numbers" degree of complexity and they even managed to paint in the numbers in the wrong order.  The story supposedly pits Captain Fathom, whoseremotely piloting, maybe (it's not really clear), a deep sea vessel against a similar looking, but different colored deep sea vessel.  Some lights flash across the screen and only through some faint grunts can the audience discern that there is a battle happening after which Captain Fathom apparently won.  Again, its unclear what has been accomplished by this as no motion by the characters has really taken place.  Another bad cartoon simply consisted of physical fitness tips, though, due to poor/lazy drawing and conceptual development, comes off as laughable when the butt of the fitness expert is highlighted by a halo while he's bent over.
Written and created by Mystery Science Theater 3000's very own Frank Conniff and co-produced by cartoon historian Jerry Beck since 2007, Cartoon Dump is a genius idea of show executed to perfection as the unintentionally terrible cartoons are legitimately painful to watch, then balanced out by the awesome mix of live sketches and stand up comedy from comedy heavy hitters such as Kyle Kinane whose been on featured on Comedy Central twice within the span of a month, and the legendary Emo Phillips (who by himself, telling only 5 jokes made the show completely worth the $10 price of admission).  
As a straight stand up comedy show, that's an already fantastic line-up that would sell out hundreds of seats.  Yet, Conniff dresses up as Moodsy the Clinically Depressed Owl who banters back and forth with co-host Compost Brite, comedian Erica Doering in a red leotard and a comically forced smile, do their own live version of a "bad cartoon", of course, with the ultra clever, hysterical quips on pop culture/current events (something that Conniff is quite good at, especially @frankconniff) and their own misguided cartoon universe complete with an actual prop dumpster that foul mouthed puppets come out of and a scantily clad woman (Kristin Arrigo) a la Jessica Rabbit and make Cartoon Dump one of those shows that already have a loyal following, but should have an even bigger one.  Special guests Emo Phillips and Kyle Kinane did their own take on the Cartoon Dump by respectively playing theme songs to supposedly rejected bigoted cartoons and reading cartoon series pitches that are really a metaphor for Kyle's misery.
In a city that's full of stand up showcases that rival most festivals on a week night, Cartoon Dump is a refreshing, wildly original comedy variety show that will delight the high falutin' "Tim and Eric" crowd as well as though who just want go out on the town and have a laugh.  Check out their Youtube Channel and Facebook page and/or merch page.
Cartoon Dump takes place on the 4th Monday of the month at the Steve Allen Theater 4773 Hollywood Blvd., Los Angeles, CA (Los Feliz).