1) At 10PM tonight, the eyes of the comedy world, well-the ones that can afford HBO anyway, will be on the return of Eastbound and Down followed by the premiere of Ricky Gervais' new series Life's Too Short w/Warwick Davis at 10PM & 10:30PM respectively. If you can afford, your eyes should be too.
2) OK network television, if you want to make another police drama procedural, take a cue from Narc Cop. [via henlips]
3) The Simpsons can check off another thing on their increasingly shorter bucket list with having rejected episode ideas tweeted out.
4) This interview with Doug Stanhope about politics actually reads like a set from Doug on why you shouldn't vote.
5) How about that? The NY Times gives "China, Il" a nice write-up.
6) At 3PM, we will be doing our very first ticket giveaway via some TBD challenge we're currently thinking of! Next Sun. Feb. 26th, The Mint LA will be having "Salute to Movie Night", which will basically be Rob Delaney, Moshe Kasher, Jonah Ray, and more riffing on the Oscars during the Oscars telecast. Sound like fun and you don't have $10-$12 to spend? You're answer was, of course, yes, so check back at 3PM…
7) We've been wondering what James Pumphrey of the Midnight Show meant when he posted "We sign mad contracts. #tms." along with the picture below of Michael Busch, producer of the Midnight Show signing, perhaps, a "mad contract". We hope that means The Midnight Show is going to be somewhere on TV…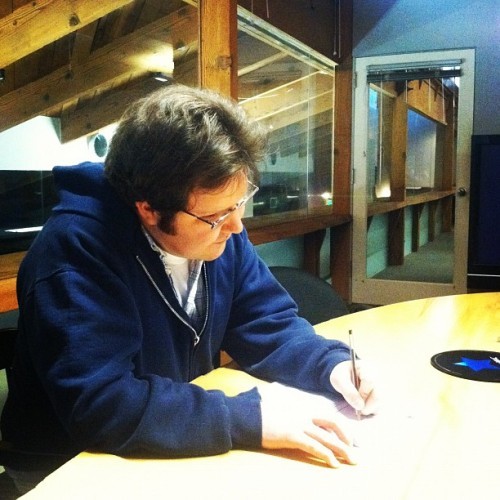 8) As far as shows that have been confirmed, green-lit, etc. that we are all excited for, check out set photos from anticipated upcoming TV comedy series (like Bunk w/Kurt Braunohler and the Eric Andre Show) that will make you have an "ah-ha" moment when you see the set photo match with the sketch/bit.
9) Every person that performs comedy permanently has the pervading fear that they will get a test screening report of their performance similar to this one that David Cronenberg's Videodrome got.
Report 00433
THE COMEDY BUREAU
@thecomedybureau
Like us on Facebook