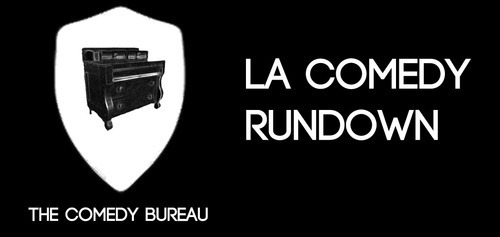 ON THE HORIZON
2nd Annual Tradiov Twitter Awards @ Hollywood Improv Tues. May 28th 7:30PM $10/2 item min.
The Eric Andre Show Live! @ Fonda Theatre Tues. Jul. 16th $30
COMEDY CRAWL
Gonzo @ Hayworth Theater 7:30PM $5
JFL Montreal Showcase @ Flappers YooHoo Room 7:30PM $10/2 item min.
Patton Oswalt Residency @ Fake Gallery 8PM No cover w/RSVP (RSVP at fakegallery@earthlink.net)
Room 101 @ The Clubhouse 8PM FREE
Meltdown @ Nerdmelt Showroom 8:30PM $8
The Parlor Social Comedy Show @ Echoes Under Sunset 9PM FREE
Facebook @ UCB Theatre 9:30PM $5 (stand by only)
Dot Comedy @ Hollywood Laugh Factory 10PM $20-$30/2 drink min.
OPEN MIC RUN
FLAPPERS BURBANK 102 E. Magnolia Blvd., Burbank, CA/Sign-up 5PM/Starts 6PM/3 min./No purchase necessary
DANGERFIELD'S 3 2524 1/2 James M. Wood Blvd., Los Angeles, CA/Starts 6PM/Lottery/3 min./$2 cover
ICE HOUSE STAGE 2 24 N. Mentor Ave., Pasadena, CA/Sign-up 5:30PM/Starts 6PM/4 min./Lottery/No purchase necessary
SAL'S COMEDY HOLE 7356 Melrose Ave., Los Angeles, CA/Sign-up 5PM/Starts 6PM/Ends 8PM/5 min./First come, first served/No purchase necessary
ROCKPAPER COFFEE CO. 7509 W. Sunset Blvd., Los Angeles, CA/Sign-up 5PM/Starts 6PM/Ends 8PM/First come, first served/One item min.
DAVE'S CHILLIN' AND GRILLIN' 2152 Colorado Blvd., Eagle Rock, CA/Sign-up 7PM/Starts 7:30PM//First come, first served/No purchase necessary
HOLLYWOOD HOTEL 1160 N. Vermont Ave., Los Angeles, CA/Sign-up 7PM/Starts 7:30PM/First come, first served/5 min./1 drink min.
THE LEXINGTON 129 E. 3rd St., Los Angeles, CA/Sign-up 7:30PM/Mixed mic/No purchase necessary
TRIBAL CAFE 1651 W. Temple St., Los Angeles, CA/Sign-up 6:30PM/Starts 7PM/mixed mic
LIQUID ZOO 7214 Sepulveda Blvd., Van Nuys, CA/Sign-up 8:30PM/Starts 9PM/first come, first served/7 min.
HOUSE OF TACOS 5616 Hollywood Blvd., Los Angeles, CA/Sign-up 9:30PM/Starts 10PM/First come, first served/No purchase necessary/Hosted by Jak Knight & Valentino McCoy
IMPROV JAM @ THE CLUBHOUSE 1107 El Centro, Los Angeles, CA Ste. 110/Starts 10PM after Room 101/Anyone can play/No purchase necessary
FLAPPERS BAR 102 E. Magnolia Ave., Burbank, CA/Sign-up 11PM/Starts 11:30PM/First come, first served