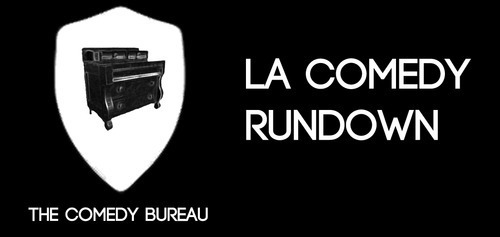 ON THE HORIZON
Hamclown 2 Year Anniversary & Final Show @ Little Modern Wed. Nov. 28th 9:30PM FREE
Guy Branum Presents Talk Show: The Game Show TOURNAMENT OF CHAMPIONS @ Hollywood Improv Fri. Nov. 30th MIDNIGHT $5/1 drink min. 
COMEDY CRAWL
Save the Date Screening @ Silent Movie Theatre 7PM FREE w/RSVP
Bruin Up Some Laughs @ Kerckhoff 8PM FREE
Performance Anxiety @ The Pleasure Chest 8PM $7
Movember Fundraiser @ Hollywood Improv 8PM $15/2 item min.
Jazzin' w/Sean O'Connor & Julian McCullough Hurricane Sandy Benefit @ The Mint LA 8:30PM $
Holy Fuck 3 Year Anniversary @ Downtown Independent Theater 9PM FREE
Comedy Alert @ Hollywood Laugh Factory 10PM $20-$30/2 drink min. 
OPEN MIC RUN
HOLLYWOOD IMPROV 8162 Melrose Ave., Los Angeles, CA/Sign-up 5:30PM-5:40PM/Starts 6PM/lottery/20 spots only/3 min./No purchase necessary
FLAPPERS BURBANK 102 E. Magnolia Ave., Burbank, CA/Starts 5:30PM/Stand-up, sketch, improv all welcome/5 min.
SAL'S COMEDY HOLE 7356 Melrose Ave., Los Angeles, CA/Starts 6PM/Ends 8PM/5 min./First come, first served/No purchase necessary
AMSTERDAM CAFE 10905 Magnolia Blvd., North Hollywood, CA/Sign-up 6PM/Starts 6:30PM
TRIBAL CAFE BEVERLY 3253 Beverly Blvd., Los Angeles, CA/Sign-up 7PM/Starts 7:45PM/First come, first served/6 min./No purchase necessary
ROCKPAPER COFFEE CO. 7509 W. Sunset Blvd., Los Angeles, CA/Sign-up 6:30PM/Starts 7PM/lottery/One item min.
PALMS BAR 8572 Santa Monica Blvd., West Hollywood, CA/Sign-up 6:15PM/Ends 7:55PM/5-7 min./First come, first served/One drink min.
WESTWOOD BREW CO 1097 Glendon Ave., Westwood, CA/Sign-up 7:30PM/Starts 8PM/lottery/first come, first served/no purchase necessary
PEDONE'S PIZZA 1332 Hermosa Ave., Hermosa Beach, CA/Sign-up 7:30PM/Starts 8PM/Ends 9:15PM/5-7min.
TRIBAL CAFE 1651 W. Temple St., Los Angeles, CA (Echo Park)/Starts 8PM/mixed mic 
BLUE GOOSE LOUNGE 5201 W. Sunset Blvd., Los Angeles, CA/Starts 8PM/First come, first served/1 drink min.
DAVE'S BAR 708 Broadway, Glendale, CA/Starts 9PM/first come, first served/one item min./8-10 min.
WESTSIDE COMEDY THEATER 1323-A 3rd St., Santa Monica, CA (in alley between 3rd St. Promenade and 4th St.)/Sign-up 9:45PM/Starts 10PM/lottery/$1 cover   PALMS BAR 8572 Santa Monica Blvd., West Hollywood, CA/Starts 11PM/First come, first served/One drink min.   
THE COMEDY STORE BELLY ROOM 8433 W. Sunset Blvd., West Hollywood, CA/Starts 11PM (when Crazy Cindee's show lets out)/Lottery/3 min./No purchase necessary